Play Therapy: A Comprehensive Guide to Theory and Practice (Creative Arts and Play Therapy) (Paperback)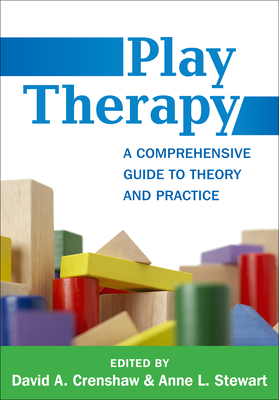 $56.35
This item is backordered and not currently available. Please contact us for an estimated availability date.
Description
---
This authoritative work brings together leading play therapists to describe state-of-the-art clinical approaches and applications. The book explains major theoretical frameworks and summarizes the contemporary play therapy research base, including compelling findings from neuroscience. Contributors present effective strategies for treating children struggling with such problems as trauma, maltreatment, attachment difficulties, bullying, rage, grief, and autism spectrum disorder. Practice principles are brought to life in vivid case illustrations throughout the volume. Special topics include treatment of military families and play therapy interventions for adolescents and adults.
About the Author
---
David A. Crenshaw, PhD, ABPP, RPT-S, is Clinical Director of the Children's Home of Poughkeepsie, New York, and Adjunct Faculty at Marist College. He has taught graduate courses in play therapy at Johns Hopkins University and Columbia University and has published widely on child and adolescent therapy, child abuse and trauma, and resilience in children. A Fellow of the American Psychological Association and of its Division of Child and Adolescent Psychology, Dr. Crenshaw has received lifetime achievement awards from the New York Association for Play Therapy and the Hudson Valley Psychological Association. He is a past chair of the board of directors of the Coalition against Sexual and Domestic Abuse and a member of the professional advisory board of the Courthouse Dogs Foundation and of the Dutchess County Task Force against Human Trafficking.

Anne L. Stewart, PhD, RPT-S, is Professor of Graduate Psychology at James Madison University, where she teaches, supervises, and conducts play therapy each week. She has written and presented internationally about crisis intervention, attachment, supervision, military families, improvisation, and resilience. She is Founder and President of the Virginia Association for Play Therapy, Chair of the National Foundation for Play Therapy, and an editorial board member of the International Journal of Play Therapy. Dr. Stewart is a recipient of the Distinguished Service Award from the Association for Play Therapy and the Outstanding Faculty Award from the State Council of Higher Education for Virginia.
Praise For…
---
"Crenshaw and Stewart have created the seminal anthology of play therapy. Covering theory and approaches, clinical applications, practice guidelines, and research, this volume is the ultimate resource for students, as well as experienced practitioners. Taken in its entirety, the book goes further than any other work I know of in defining the breadth and scope of play therapy and its contribution to growth, development, education, and healing in children. I offer my sincere thanks to the editors for providing this indispensable resource!"--Richard L. Gaskill, EdD, LCP, RPT-S, Sumner Mental Health Center, Wellington, Kansas

"Everything you always wanted to know about play therapy can be found in this comprehensive 36-chapter volume. The wide scope makes the book ideal for graduate play therapy training programs and for clinicians who work with children in a variety of settings. The chapter authors present not only their theoretical bases but also rich clinical case examples that demonstrate the unique power of play therapy. This impressive book will prove invaluable for educating professionals for years to come."--Nancy Boyd Webb, DSW, LICSW, RPT-S, University Distinguished Professor of Social Work Emerita, Fordham University

"This book offers a unique, much-needed contribution to the field. Crenshaw and Stewart have brought together an outstanding group of contributors. The impressive breadth and depth of coverage ranges from theoretical underpinnings, to clinical applications across a wide range of client problems, to research and ethical bases for practice. I recommend the book heartily as a text for graduate training programs, and for the library of any professional who wishes to engage in the informed practice of play therapy."--Ronald E. Reeve, PhD, NCSP, Director, Curry Program in Clinical and School Psychology, University of Virginia

"Accessing the richness of Play Therapy: A Comprehensive Guide to Theory and Practice allows the reader-practitioner to dive deeply into the transformative power of play itself. Each chapter acknowledges play as a force of nature, captured in its essence and refined through the comprehensive skill, broad scholarship, and multiple foci of accomplished authors and editors. The result of this immersion is inspiration and deepened professional identity for the practitioner, and healing mercies for those who become safe and playful through its applications. Guided, chapter by chapter, through this volume's varied and verdant landscapes, the reader emerges with a treasure of theoretical and philosophical grounding plus solid clinical guidance for greater professional excellence. No small accomplishment....There is plenty of nourishment in this volume to establish it as a fresh and necessary revelatory 'bible' of play therapy, guiding the therapist to new and more effective personal and professional rewards."--from the Foreword by Stuart Brown, MD