Effective Math Interventions: A Guide to Improving Whole-Number Knowledge (The Guilford Practical Intervention in the Schools Series ) (Paperback)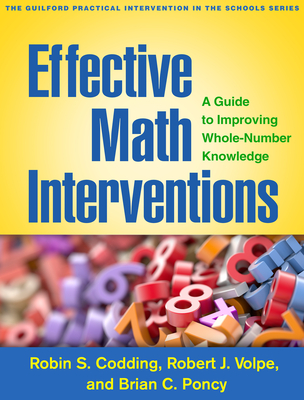 $44.85
This item is backordered and not currently available. Please contact us for an estimated availability date.
Description
---
Building foundational whole-number knowledge can help put K-5 students on the path to academic success and career readiness. Filling a gap for school practitioners, this book presents step-by-step guidelines for designing and implementing classwide, small-group, and individual interventions for mathematics difficulties. Effective procedures for screening, assessment, intervention selection, and progress monitoring are described and illustrated with detailed case vignettes. In a convenient large-size format, the book includes 20 reproducible handouts and forms. Purchasers get access to a Web page where they can download and print the reproducible materials.

This book is in The Guilford Practical Intervention in the Schools Series, edited by Sandra M. Chafouleas.
About the Author
---
Robert J. Volpe, PhD, is Associate Professor in the School Psychology Program in the Bouvé College of Health Sciences at Northeastern University in Boston. His research focuses on designing and evaluating academic and behavioral interventions for students with disruptive behavior disorders. He also is interested in behavioral assessment, particularly with regard to designing feasible systems for evaluating the effects of intervention. Dr. Volpe has authored or coauthored over 60 articles and book chapters, is on the editorial advisory boards of the Journal of Attention Disorders and the Journal of School Psychology, and is Associate Editor of School Psychology Review.
Praise For…
---
"A practical and useful intervention guidebook for school-based professionals. The book provides clear forms and scripts for many aspects of the intervention process and also serves as a strong introduction to mathematical concepts. The authors emphasize the importance of high-quality core instruction--which is overlooked surprisingly often by many intervention models--and include methods to understand and address student motivation. This is an excellent resource for preservice learners and for practicing professionals engaged in response to intervention for mathematics."--Matthew K. Burns, PhD, Department of Special Education, University of Missouri–Columbia

"This book offers a fantastic synthesis of empirically supported practices that can improve K–5 mathematics instruction. From screening and progress monitoring to layers of instruction and intervention, each procedure is presented in a systematic way. The reader gets an understanding of what math skills and content students must learn and how to ensure they reach mastery. The book is filled with case examples, implementation checklists, and tables summarizing the evidence for specific tactics. For any educator or school practitioner who wants to bring precise instructional design into the classroom to benefit the learning of all students, this book is a powerful addition to the toolkit."--Amanda M. VanDerHeyden, PhD, Education Research and Consulting, Fairhope, Alabama

"There are very few works available that cover the content that our preservice teachers in mathematics need in such an extensive manner. From general curriculum to embedded principles of MTSS models like tiered intervention and assessment, this book provides key knowledge for educators working with students at risk in mathematics. The book is full of case study examples, checklists, rubrics, and intervention ideas. Having all of the resources in one place is invaluable, as many of us have had to 'piece together' this information for our courses and professional development."--Erica S. Lembke, PhD, Department of Special Education, University of Missouri–Columbia

"Essential reading for both general and special educators who teach mathematics. The book provides a comprehensive overview of concepts central to evidence-based math instruction and intervention. The material is brought to life through unique case studies, practitioner-friendly reproducible forms, steps for implementing interventions, and rubrics to guide progress monitoring. Of special note, the authors include a variety of evidence-based assessments/interventions addressing the critical role of motivation in achievement. In an area with a dearth of accessible, research-based resources, this is sure to become a go-to book for school-based practitioners and administrators who strive to maximize math achievement for all students."--Ravit R. Stein, PhD, BCBA-D, Director of Psychological and Behavioral Consultation Services, EASTCONN Regional Education Service Center, Connecticut