Clinician's Guide to PTSD: A Cognitive-Behavioral Approach (Paperback)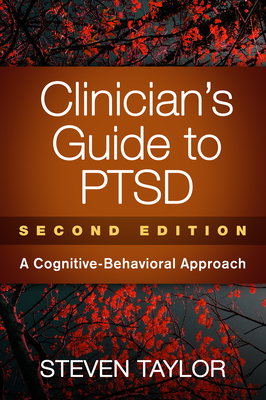 $37.95
This item is backordered and not currently available. Please contact us for an estimated availability date.
Description
---
This practitioner's guide, now thoroughly updated, examines the nature of posttraumatic stress disorder (PTSD) and provides a complete framework for planning and implementing cognitive-behavioral therapy (CBT). Steven Taylor addresses the complexities of treating people who have experienced different types of trauma and shows how to adapt empirically supported protocols to each client's needs. Rich case examples illustrate the nuts and bolts of cognitive interventions, exposure exercises, and adjunctive methods. Purchasers get access to a Web page where they can download and print the book's 14 reproducible handouts in a convenient 8 1/2" x 11" size.

New to This Edition:
*Chapter on pharmacotherapy--what CBT practitioners need to know when treating clients who are also taking medication.
*Incorporates over a decade of advances in assessment and treatment techniques, outcome research, and neurobiological knowledge.
*Updated for DSM-5.
About the Author
---
Steven Taylor, PhD, is a clinical psychologist and Professor in the Department of Psychiatry at the University of British Columbia. He is Associate Editor of the Journal of Obsessive-Compulsive and Related Disorders and previously served as Editor of the Journal of Cognitive Psychotherapy and Associate Editor of Behaviour Research and Therapy. Dr. Taylor's research focuses on the etiology and treatment of anxiety and related disorders, conceptualized from a biopsychosocial perspective. His work has been recognized with awards from the Association for Behavioral and Cognitive Therapies, the Anxiety Disorders Association of America, and the Canadian Psychological Association, among others. He has authored over 300 scientific journal articles and book chapters and several books.
Praise For…
---
"Taylor--a CBT master therapist--has revised and updated his A to Z volume that is a 'must read' for every clinician treating PTSD and every clinical student. Including recent innovations, the book is accessible and features case examples throughout. The book reviews the literature and delves into assessment, case formulation, cognitive interventions, exposure exercises, and, in a new chapter, combining CBT with pharmacotherapy. Even seasoned clinicians will discover new information that will change their practice."--Barbara Olasov Rothbaum, PhD, ABPP, Professor of Psychiatry and Director, Emory Healthcare Veterans Program and Trauma Anxiety Recovery Program, Emory University School of Medicine

"This second edition is a masterpiece, blending Taylor's long experience and deep understanding of PTSD with many practical recommendations. It provides a clear review of the latest evidence for the benefits and limitations of CBT. The book gives many illustrations of how treatment is delivered, highlighting the importance of taking a flexible approach. Of particular value are the discussions of specific populations--such as children, older adults, and those with substance use problems--as well as the coverage of how other PTSD treatments interface with CBT. I recommend this book to graduate students and professionals alike as an authoritative text, a hands-on guide, and an excellent reference source."--Jonathan R. T. Davidson, MB, BS, FRCPsych, Department of Psychiatry and Behavioral Sciences (Emeritus), Duke University Medical Center

"A valuable resource for anyone working with survivors of trauma and PTSD. The second edition synthesizes important advances in diagnosis and treatment. The primary focus is providing practical guidance to clinicians, illustrated through multiple case examples and supplemented with useful clinical tools, including downloadable handouts and worksheets for clients. This book is a gem."--Kim T. Mueser, PhD, Department of Occupational Therapy, Department of Psychological and Brain Sciences, and Center for Psychiatric Rehabilitation, Boston University

"A comprehensive, accessible text that will likely appeal to a wide range of clinicians with varying levels of experience....This book is truly a 'Clinician's Guide'....A thorough, hands-on text." (on the first edition)
— Journal of Contemporary Psychotherapy