The Child Clinician's Report-Writing Handbook (Paperback)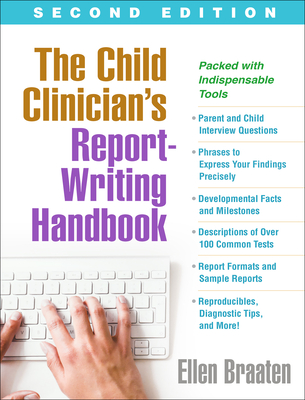 $56.35

Warehouse, In Stock | Usually Ships in 1-5 Days | New
Description
---
Now revised and updated, this indispensable tool streamlines the process of conducting child and adolescent assessments and producing high-quality reports. In a convenient large-size format, the book is filled with interview questions and reproducible forms for collecting pertinent information from children, parents, and teachers; wording to describe more than 100 commonly used tests; and menus of terms and phrases for each section of a report. Formats and writing tips are provided for diagnostic, personality, and neuropsychological reports; treatment plans; progress notes; and more. Other user-friendly features include lists of medications and abbreviations and recommended print and online resources for professionals and parents. Purchasers get access to a Web page where they can download and print the reproducible materials.
 
New to This Edition
*Revised throughout for DSM-5 and ICD-10-CM.
*Includes the most current test batteries and rating scales.
*Updated resources for professionals and parents.
*Reproducible materials now available online.
 
About the Author
---
Ellen Braaten, PhD, is Director of the Learning and Emotional Assessment Program at Massachusetts General Hospital (MGH), Co-Director of the Clay Center for Young Healthy Minds at MGH, and Associate Professor of Psychology at Harvard Medical School (HMS). She has been affiliated with MGH and HMS since 1998. Dr. Braaten is widely recognized for her expertise in pediatric neuropsychological and psychological assessment, particularly in the areas of assessing learning disabilities and attentional disorders. Her research and numerous publications focus on attention-deficit/hyperactivity disorder, learning disabilities, gender and psychopathology, intelligence, and assessment. She has published numerous books for professionals and parents, including Bright Kids Who Can't Keep Up.

Praise For…
---
"This book is an extremely valuable tool for writing well-organized and useful psychoeducational or neuropsychological evaluations of children and adolescents. It provides very smart, practical guidance about organizing and adapting evaluations to the specific needs of individual students. Beginning and experienced clinicians alike will find this handbook a rich resource, and it should be used in training future practitioners. I strongly recommend it."--Thomas E. Brown, PhD, private practice, Manhattan Beach, California; Department of Psychiatry and Behavioral Sciences, Keck School of Medicine, University of Southern California

"Understanding what is going on with a child behaviorally, cognitively, and emotionally, and delivering the message to the family, is the first step in effective treatment. Braaten skillfully navigates the critical process of evaluating complex psychological and neuropsychological issues in children and adolescents. This up-to-date second edition not only covers the basics, but also highlights contemporary thinking related to children's behavioral health. Braaten's pragmatic approach makes this a highly readable resource for myriad mental health and pediatric professionals who work with youth."--Timothy E. Wilens, MD, Chief, Division of Child and Adolescent Psychiatry, Massachusetts General Hospital/Harvard Medical School

"This book carefully guides the reader from start to finish in the report-writing process. Trainees often find composing their first reports to be daunting. Braaten demystifies this task and delves into special topics--for example, considerations when preparing reports for school-based evaluations. I expect this book to be instrumental when used in graduate-level training. Students will find it an invaluable resource to return to repeatedly when transitioning to new clinical environments, such as during externship and internship rotations."--Andres De Los Reyes, PhD, Department of Psychology, University of Maryland, College Park

"Braaten has done it again with this fantastic second edition of her go-to handbook. This edition is updated for DSM-5 and includes recent advances in testing and assessment. The book's accessibility, logical chapter organization, excellent examples, and reproducible forms make it indispensable for any child clinician. Topics include how to begin the initial interview, interact with parents, gather information from teachers, assemble a comprehensive history, conduct testing, interpret the results, and, of course, write the report--this manual has it all!"--Lee A. Rosén, PhD, Department of Psychology, Colorado State University

"For those in training to do psychological evaluations and write professional reports, this book is an invaluable tool....It could serve as a companion text in any graduate psychology training course on assessment in both psychological and educational domains." (on the first edition)
— Child and Family Behavior Therapy

"Chapters on standard terms and statements that can be used in reports are invaluable, especially for early career professionals and graduate students. The excellent chapter on general guidelines for presenting test results in a report gives clinicians language to report results clearly to both professionals and parents….This excellent book contains everything child clinicians need to write up a psychological assessment. This is an invaluable resource for students, early career professionals, and seasoned clinicians. The second edition is needed because of the use of DSM-5 and ICD-10-CM codes, as well as current psychological instruments."
— Doody's Review Service