The Developing Mind: How Relationships and the Brain Interact to Shape Who We Are (Hardcover)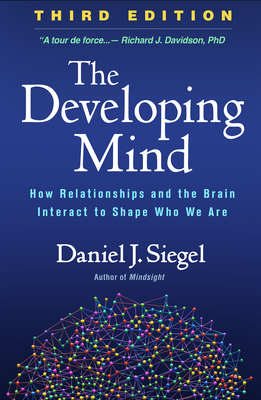 $67.85

Warehouse, In Stock | Usually Ships in 1-5 Days | New
Description
---
This highly influential work--now in a revised and expanded third edition incorporating major advances in the field--gives clinicians, educators, and students a new understanding of what the mind is, how it grows, and how to promote healthy development and resilience. Daniel J. Siegel synthesizes cutting-edge research from multiple disciplines, revealing the ways in which neural processes are fundamentally shaped by interpersonal relationships throughout life. And even when early experiences are not optimal, building deeper connections to other people and to one's own internal experience remains a powerful resource for growth. Professors praise the book's utility in courses from developmental psychology and child development to neuroscience and counseling.
 
New to This Edition
*Incorporates findings from a huge body of recent research; over 1,000 citations added.
*Revisits and refines the core hypotheses of interpersonal neurobiology.
*Chapter on the experience of belonging and the development of identity.
*New or expanded discussions of behavioral epigenetics, the default mode network of the brain, social neuroscience, cultural and gender issues, theory of mind, the Wheel of Awareness contemplative practice, the science of consciousness, and more.
 
About the Author
---
Daniel J. Siegel, MD, an internationally acclaimed author, award-winning educator, and renowned child psychiatrist, is Clinical Professor of Psychiatry at the School of Medicine of the University of California, Los Angeles, where he is the founding codirector of the Mindful Awareness Research Center. He is a Distinguished Fellow of the American Psychiatric Association and a recipient of several honorary fellowships. He is also Executive Director of the Mindsight Institute, an educational center devoted to promoting insight, compassion, and empathy in individuals, families, institutions, and communities. Dr. Siegel's recent books include Parenting from the Inside Out, The Whole-Brain Child, Brainstorm, The Yes Brain, The Power of Showing Up, Mind, and Aware.
Praise For…
---
"Welcome to an intellectual feast that will also enrich your emotional life. Siegel is masterful at synthesizing multidisciplinary knowledge to give us an understanding of the mind that is both scientifically rigorous and richly imbued with experiential meaning. The third edition of this classic text incorporates new findings from thousands of recent studies, while retaining the fresh excitement of the field of interpersonal neurobiology that Siegel inaugurated 20 years ago. Indispensable reading for anyone interested in how the mind emerges from the interface between brain and interpersonal experience."--Alicia F. Lieberman, PhD, Irving B. Harris Endowed Chair in Infant Mental Health and Professor, Department of Psychiatry, University of California, San Francisco

"I can only describe this as a unique and astounding book about child development that every therapist must have in his or her library. Siegel is thorough and incredibly informative as he explains the child's developing social mind and brain. The book is also very readable."--John M. Gottman, PhD, The Gottman Institute, Seattle, Washington

"Siegel presents an up-to-the-minute third edition of a book that is already in wide use. He elucidates the neurological underpinnings and social processes that have made humans--with our peculiar questing for intersubjective engagement--so different emotionally from other apes. No book I know of more clearly lays out, step by step, how people develop in response to those around them, and how variable those outcomes can be."--Sarah Blaffer Hrdy, PhD, Professor Emerita of Anthropology, University of California, Davis

"This comprehensive book reviews three decades of neuroscience related to learning with others in the early months, and reveals new ideas about how the mind grows when a child is thriving. Siegel, a leader in child and family mental health, generously shares his expertise. He traces how the infant is committed from birth to play a part in the life of a community of personalities, and how our emotions, bodies, and brains move together in search of kindness and connection."--Colwyn Trevarthen, PhD, FRSE, Professor Emeritus of Child Psychology and Psychobiology, University of Edinburgh, United Kingdom

"The importance of Siegel's work has been reflected in the interest, enthusiasm, and joy that his interpersonal neurobiology has brought to people around the world for more than two decades. The third edition of The Developing Mind presents the ongoing neuroscientific research that supports the book's initial hypotheses and expands their applications in psychotherapy, education, and mindfulness. It offers a window into Siegel's evolving synthesis of his theories of mind into the core of interpersonal neurobiology. Readers will find themselves on a wonderful intellectual and personal journey."--Louis Cozolino, PhD, Graduate School of Education and Psychology, Pepperdine University

"An astonishing accomplishment. Somehow, Siegel explains the amazingly complex human mind to clinicians and researchers alike. As a child psychologist, I find much of The Developing Mind of great interest and relevance to my practice, including excellent material on early attachment and trauma. The third edition has been completely updated with the most recent research and writings across multiple disciplines. Students and professionals in diverse fields will find interesting and useful material in this impressive work."--Deborah Roth Ledley, PhD, private practice, Plymouth Meeting and Narberth, Pennsylvania

"I used the second edition in our required social work practice course for graduate students. My students gained an understanding of the meaning of 'mind,' how the mind emerges from the brain, and the way the mind is shaped by interpersonal relationships. I used the text to demonstrate how an interpersonal neurobiology framework can be utilized in assessment, diagnosis, and treatment of infants, children, and adolescents. Readings and discussions also helped students explore aspects of their own identity and subjective mental processes. Two things that immediately caught my attention in the third edition are the expanded glossary and the new chapter on identity development and belonging. I look forward to adopting the third edition for my class!"--Marian S. Harris, PhD, School of Social Work and Criminal Justice, University of Washington Tacoma

"Siegel skillfully navigates readers through the disquiet of fatalism and destiny toward hope and understanding of how our neurobiology is shaped by our society and how we in turn shape our society….Siegel provides a well-integrated thesis on the developing mind and leads the reader from an understanding of the neuron and neuronal networks to the development of social meaning and the social experience within the context of neurobiology. He summarizes and synthesizes contemporary research and knowledge on the development of the mind in a manner that encourages further exploration. In-depth exploration is encouraged by the excellent citations. The Developing Mind is an outstanding addition to the library of those who are interested in how the mind develops, and it is likely to become a well-thumbed reference over the years." (on the second edition)
— PsycCRITIQUES

"Recommended. Graduate students, researchers, professionals; knowledgeable general readers." (on the second edition)
— Choice Reviews

"Brilliant....This is not just a book for bright psychiatric residents or child fellows, but child psychiatrists young and old, overworked or underpaid. It offers a glimpse of new horizons in the profession." (on the first edition)
— Canadian Child Psychiatry Review

"Readable, thoughtful, and informative." (on the first edition)
— Educational Leadership

"Fulfilled my wildest expectations. Instead of laboriously struggling to learn about neurobiology, I found myself fairly effortlessly assimilating information because 1) the author is able to present his material in the context of interpersonal relationships in general and the treatment dyad in particular, and 2) the author is a master of lucidity, avoids pedantry, and succeeds in making his data clinically useful." (on the first edition)
— American Journal of Psychiatry

"I knew that this book was one I should keep handy when I wanted to improve my understanding of information on which the future science of psychiatry will be based." (on the first edition)
— Journal of Clinical Psychiatry

"The story Siegel tells is indeed fascinating, essentially describing the transactional processes that happen at the interface between developmental neurobiology and the environment of an individual....This is a book to stimulate, illuminate, and drive our understanding of human developmental processes forward." (on the first edition)
— Journal of Child Psychology and Psychiatry

"A remarkable book....The Developing Mind boldly transcends the reductionism that characterizes so much of contemporary psychiatry." (on the first edition)
— Psychiatric Times

"Current, thorough, closely argued....One of Siegel's major gifts is for presenting anatomical, neurological, research, and clinical information while still pointing out what remains unknown. He explores infant–parent relationships, emotions, states of mind, and how knowing about them can help one improve one's relationships and capabilities for developing successfully." (on the first edition)
— Booklist

"Why can't we remember what we did at age three? Why are some children unusually shy? What is the biochemistry of humiliation, and how can it be 'toxic to the developing child's brain'? New and plausible answers to these questions emerge from Siegel's synthesis of neurobiology, research psychology and cognitive science....His subject--how we become the people we are/m-/deserves to hold many readers spellbound." (on the first edition)
— Publishers Weekly