Teaching Self-Compassion to Teens (Paperback)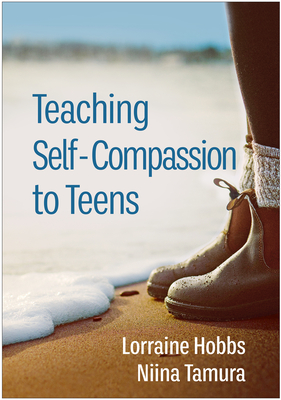 $40.25

Warehouse, In Stock | Usually Ships in 1-5 Days | New
Description
---
Grounded in knowledge about the unique developmental challenges of adolescence, this book presents an innovative approach for teaching self-compassion to teens and young adults in clinical, educational, or community settings. Lorraine Hobbs and Niina Tamura provide guided practices, creative exercises, and teaching strategies adapted from Kristin Neff and Christopher Germer's widely disseminated Mindful Self-Compassion program for adults. Case examples, sample dialogues, and scripts illustrate how to set up and run successful groups that address teen concerns such as self-criticism, self-esteem, social comparison, and strong emotions. The book offers guidelines for cultivating a personal practice and working with parents. Tips for providing a safe, effective learning environment are woven throughout; a special chapter covers trauma-sensitive teaching.

About the Author
---
Lorraine Hobbs, MA, is Founding Director of the Youth, Family, and Education Programs at the University of California, San Diego (UCSD) Center for Mindfulness. As a family therapist, Ms. Hobbs has combined her clinical experience with her mindfulness and self-compassion expertise to coauthor curricula including Mindful Self-Compassion for Teens (MSC-T), an adaptation of the Mindful Self-Compassion (MSC) program for adults. She is codeveloper of the MSC-T teacher training program and provides trainings internationally. Ms. Hobbs is a certified teacher of MSC, Mindfulness-Based Stress Reduction  (MBSR), and Compassion Cultivation Training, and is an MBSR mentor through the UCSD Mindfulness-Based Professional Training Institute.

Niina Tamura, PhD, is a psychologist specializing in child and adolescent psychotherapy, based in Heidelberg, Germany. She combines mindfulness- and compassion-based approaches with cognitive-behavioral therapy. Before turning to clinical practice, Dr. Tamura was a researcher in developmental psychology at the University of Oxford, United Kingdom. She is a trained teacher of Mindful Self-Compassion (MSC) and Mindful Self-Compassion for Teens (MSC-T).
Praise For…
---
"Lorraine Hobbs and Niina Tamura have offered us the science and art of how to support adolescents in growing a more integrated brain and compassionate mind in this crucial period of development.…What better gift to give the next generation in a world waiting for them to fully arrive with the skills, kindness, and grit our modern times will require? Thank you for taking the time to take in the wisdom of this book and make its gifts available to all the youth who will benefit from your guidance."--from the Afterword by Daniel J. Siegel, MD, Executive Director, Mindsight Institute; Clinical Professor of Psychiatry, School of Medicine, University of California, Los Angeles

"This is an invaluable book for anyone who works with teens and wants to help them become more emotionally intelligent and resilient. Drawing on abundant research showing that self-compassion is essential to healthy development, the authors provide a detailed blueprint for how to help teens learn the life-changing skill of being kind and supportive to yourself."--Kristin Neff, PhD, Department of Educational Psychology, The University of Texas at Austin

"If you are a clinician or educator who thinks self-compassion for teens sounds like a good idea--but you don't know how to teach it--this is the book for you. Through clear instructions informed by decades of experience, Hobbs and Tamura present practical exercises that help teens unlock their mindfulness and compassion and use these qualities to benefit themselves and those around them."--Susan Kaiser Greenland, author of The Mindful Child

"What an incredible gift to adolescents and those who work with them! This book is chock-full of practices that cultivate not only self-compassion, but also connection, creativity, and fun. Teens (and adults) will go back to these lessons again and again."--Christopher Willard, PsyD, Department of Psychiatry, Harvard Medical School/Cambridge Health Alliance

"This book is a detailed guide for those who want to support teens in developing the essential life skill of self-compassion. When teens learn to treat themselves with kindness, it is truly life changing, perhaps even life saving."--Amy Saltzman, MD, Director, Association for Mindfulness in Education; author of A Still Quiet Place for Teens

"What better way to help teens navigate the often-turbulent adolescent years and prepare to go out into the world than to offer them the gift of self-compassion! This invaluable guide is a 'must read' for mindfulness and compassion teachers, psychotherapists, and educators. It thoroughly describes why self-compassion matters in adolescence and provides step-by-step session guides, replete with examples of interactions with participants and advice for navigating difficulties that arise. Special attention is given to working with trauma and creating a safe environment for teens, as well as the importance of personal practice. This book is a vital contribution to the fields of compassion training and adolescent development."--Michelle Becker, MA, LMFT, senior teacher trainer, mentor, and cofounder of the teacher training program, Center for Mindful Self-Compassion

"For those of us who see self-compassion as inherent to mindfulness, and want to teach that to teens, this is the book we have been waiting for! This book is a master class from experienced and innovative authors. It is imbued with wisdom, warmth, and appreciation for teens in all of their suffering, creativity, and strength."--Dzung X. Vo, MD, Director, BC Children's Hospital Center for Mindfulness, Vancouver, British Columbia, Canada

"It's tough being a teen, and research shows it is getting harder. What can therapists, teachers, and parents do to counter the current epidemic of adolescent depression and anxiety? This excellent and informative book shows how teaching self-compassion can help teens cope with the challenges they face. It is a wonderful resource for all who care about teens and want to learn more about the art and science of self-compassion."--Susan M. Pollak, MTS, EdD, Cofounder, Center for Mindfulness and Compassion, Harvard Medical School/Cambridge Health Alliance

"Detailed descriptions of the practices offer instructors clear guidance for implementing this teaching in the real world. The numerous insights into how to help participants feel safe, including those who have experienced trauma, are especially informative. As an organization dedicated to teaching mindful self-compassion to teens, we will incorporate this book into our core resources."--Cynthia Osterman, Board Chair, The Benji Project, Jefferson County, Washington

"This book offers a practical roadmap for counselors, teachers, and even parents looking to help teens and young adults navigate the often-rocky years of adolescence….Hobbs and Tamura give a solid background in self-compassion practice."
— Mindful Magazine

"Each of the individual activities appears to be very achievable in a school context, with realistic materials and expectations….I found this book to be well researched, informative, and comprehensive. I feel it is appropriate for the intended audience and am glad that this type of training is becoming more accessible, as developing these skills in the teen years is more important than ever. I recommend this book for secondary-level practitioners or even parents of teens looking to develop these skills for themselves and the children they support."
— NASP Communiqué