Writing and Reading Connections: Bridging Research and Practice (Paperback)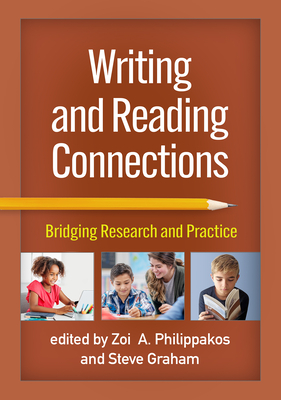 $40.25

Warehouse, In Stock | Usually Ships in 1-5 Days | New
Description
---
Writing skills are essential for success in the 21st-century school and workplace, but most classrooms devote far more time to reading instruction, with writing often addressed in isolation or excluded. In this insightful professional development resource and text, leading researchers discuss why and how to integrate writing and reading instruction in grades K–12 and beyond. Contributors explore how to harness writing–reading connections to support learning in such areas as phonics and spelling, vocabulary, understanding genre and text structure, and self-regulated strategy development, as well as across content areas and disciplines. Special considerations in teaching emergent bilingual students and struggling literacy learners are described. User-friendly features include guiding questions, classroom examples, and action questions that help teachers translate the research and concepts into practice.
 
About the Author
---
Zoi A. Philippakos, PhD, is Associate Professor in the Department of Theory and Practice in Teacher Education at The University of Tennessee, Knoxville. Her research interests include reading and writing instruction in K–12 and postsecondary classrooms, strategy instruction with self-regulation, and teacher professional development. Dr. Philippakos is a recipient of the Faculty Research Excellence Award from the College of Education, Health, and Human Sciences and the Provost Award for Professional Promise in Research and Creative Achievement from The University of Tennessee, as well as the Early Career Achievement Award from the Literacy Research Association. She chaired the Writing Task Force for the International Literacy Association and coauthored a Research Advisory titled Teaching Writing to Improve Reading Skills. Dr. Philippakos is coauthor or coeditor of several books and presents her work at national and international conferences.
 
Steve Graham, EdD, is a Regents Professor and the Warner Professor in the Division of Leadership and Innovation at Mary Lou Fulton Teachers College, Arizona State University. For more than 40 years, he has studied how writing develops, how to teach it effectively, and how it can be used to support reading and learning. Dr. Graham's research involves typically developing writers and students with special needs in both elementary and secondary schools, with much of this research occurring in classrooms in urban schools. Dr. Graham is a recipient of the Thorndike Career Award from Division 15 of the American Psychological Association, the William S. Gray Citation of Merit from the International Literacy Association, and the Exemplary Research in Teaching and Teacher Education Award from Division K of the American Educational Research Association, among other awards. He is the former editor of several journals, including the Journal of Writing Research, and is coauthor or coeditor of several books and three influential Carnegie Corporation reports on writing.
 
Praise For…
---
"One of the most important but underappreciated domains of literacy research is the link between reading and writing. Philippakos and Graham fill a chasm in literacy theory and research by assembling scholars who have devoted their careers to exploring writing–reading connections. I will use this book in my graduate-level literacy classes for both emerging researchers and future teachers. With its coverage of components and domains of literacy, applications to content-area instruction, and addressing the strengths and needs of distinct populations, this book does the literacy field a great service!"--C. Patrick Proctor, EdD, Lynch School of Education and Human Development, Boston College

"Putting research to work, this text is designed to help educators see the complex connections between writing and reading needed to build effective learning opportunities for K–12 students. Establishing itself as the most current resource on this topic, the book is written and edited by leading scholars and researchers. It addresses the history of writing and reading instruction, elements essential to comprehensive literacy instruction, and the use of writing to support learning in multiple academic and learning contexts. The editors ensure their book is inclusive and relevant for educators working with a wide range of learner populations."--Susan De La Paz, PhD, College of Education, University of Maryland

"This book does an excellent job of establishing the interrelation of reading and writing. Chapters demonstrate what a network of reading and writing practices looks like in a classroom, how this network can inform instruction, and how this can make the school experience more meaningful to and valued by students. I especially like how the chapters capture such a wide range of compelling issues and topics. I would assign this entire book or selected chapters in a range of secondary education courses on writing."--George E. Newell, PhD, Department of Teaching and Learning (Emeritus), The Ohio State University

"Elementary and secondary teachers often struggle to balance reading and writing instruction. This book provides educators a clear rationale for why writing and reading should be integrated in the classroom, specific guidance for using writing–reading connections to achieve important literacy goals, and practical, research-validated approaches for leveraging these processes to build disciplinary knowledge and skills. This book is an invaluable tool for teachers, teacher educators, and professional developers who recognize writing, reading, and oral discourse as essential elements of students' learning, and who want to take advantage of the powerful synergy of these processes."--William E. Lewis, PhD, School of Education, University of Delaware