Regulatory Assessment Toolkit: A Practical Methodology for Assessing Regulation on Trade and Investment in Services (Trade and Development) (Paperback)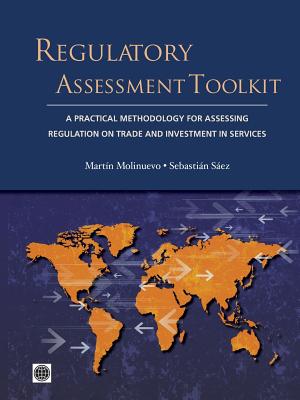 This item is backordered and not currently available. Please contact us for an estimated availability date.
Description
---
'Regulatory Assessment Toolkit: A Practical Methodology for Assessing Regulation on Services Trade and Investment' provides guidance on how to assess and reform the regulatory policies of service trade industries. The toolkit can help government officials evaluate whether their regulatory framework addresses market failures, achieves public interest goals in an efficient manner, and promotes the development of an efficient domestic services market. Depending on the circumstances and the needs of the authorities, the toolkit can serve different purposes, including supporting regulatory reform, improving regulatory governance, negotiating and implementing trade agreements, and streamlining regulations to attract foreign investment. The Regulatory Assessment Toolkit will be of particular interest to policy makers and government officials from regulatory bodies, experts at development banks and donor agencies, and academics and researchers in the field of economic regulation. 'Services are famously (and indeed on occasions literally) where the rubber of trade meets the road of a country's domestic economic conditions. Domestic regulation of services has a significant impact on the vibrancy of trade in services and simultaneously in trade in goods, since services such as telecommunications, transport, financial, and energy are inputs to the manufacturing process. Not surprisingly, domestic regulation of services faces steep technical, institutional, and political challenges, which are frequently not obvious either to the casual observer looking in from the outside or to the sectoral specialist steeped in the nitty gritty. That is why the Regulatory Assessment Toolkit is such a useful resource: It offers a sturdy framework for structured, unbiased, and exhaustive analysis of specific regulatory setups that will surely help put the diagnosis of regulatory challenges and the discussion of reform measures to improve efficiency on a sound basis. Efficiency of services, both domestic and imported, is key to an economy's overall competitiveness and to consumer welfare, both in developed and developing countries. The Regulatory Assessment Toolkit, together with similar initiatives, is a great tool to help direct and push much-needed reform in these sectors.' --Eduardo P rez Motta, AGON Law and Economics, former WTO Ambassador of Mexico, former Chairman of the International Competition Network (ICN) and former Chairman of the Federal Competition Commission of Mexico 'Services account for the largest share of economic activity in all countries and are a key determinant of trade competitiveness. This toolkit provides practical guidance for analysts seeking to document and assess the trade impacts of services policy regimes, as well as useful advice on alternative regulatory approaches that do not distort trade.' --Bernard Hoekman, Robert Schuman Centre for Advanced Studies, European University Institute 'Services trade and investment flows are facilitated and constrained by a wide range of regulations-at the border and behind the border. Despite the growing importance of services in the world economy, understanding these different regulatory instruments and their impact on services flows remains very limited. There is limited awareness of what constitute best practices in services regulations, or about the institutional frameworks and regulatory architecture needed to promote the competitiveness of the services sector as well as the wider economy and to address larger public policy objectives. This book is most timely in that it not only fills these gaps in the existing literature on the globalization of services but also links this analysis to concrete policy inputs in the form of a toolkit. Academics, researchers, trade negotiators, and developing country policy officials will find this a most handy reference.' --Rupa Chanda, Professor of Economics, Indian Institute of Management Bangalore, India.