Help Your Kids with Adolescence: A No-Nonsense Guide to Puberty and the Teenage Years (DK Help Your Kids) (Paperback)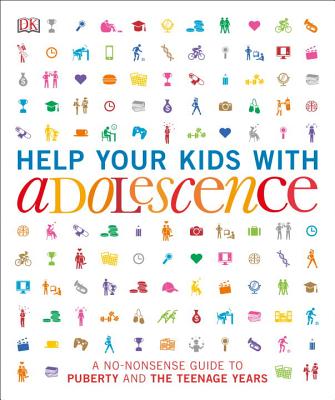 List Price: $19.95
Our Price: $18.95
(Save: $1.00 5%)
Description
---
Deal with the ups and downs of growing up. This visual guide to puberty and adolescence is a must-read for all parents and tweens embarking on those scary teenage years. 

This growing up book covers contemporary issues such as internet safety and tackles key topics such as sexuality and body image. Demystify puberty with this must-read home reference book.

 
From your menstrual cycle to sexting, and even cyber-bullying.

This straightforward, unpatronizing approach to tricky topics is the essential illustrated guide to adolescence for both parents and their teens. The stunning graphics and illustrations make this invaluable for tweens and teens alike.

Help Your Kids With Adolescence is a guide for modern kids coming into their teen years. It addresses topical issues like body image, the effects of social media, and sexting. It also offers a biological explanation for the physical side of being a teenager from mood swings, periods, and breaking voices. This book offers a no-nonsense, non-judgemental approach to help parents and their kids navigate their way through puberty and adolescence.  

Sexuality, Confidence, Social Media, Emotions, Stress!

Puberty and adolescence can be a confusing and complex time. Help Your Kids With Adolescence offers straightforward advice to help parents and children survive and thrive during the turbulent teenage years. Emotional well-being, physical changes, online safety, family dynamics, relationships, sexuality, and much more are discussed and explained through jargon-free text and simple, clear illustrations. 

Engaging graphics and illustrations make this modern, comprehensive guide to adolescence invaluable for tweens and teens alike. Whether as a quick-reference guide or cover-to-cover read.

This self-understanding and self-development book will discuss and explain the following topics:

- Growing Up
- Female Puberty
- Male Puberty
- Healthy Body
- Healthy Mind
- Achieving Potential 
- Digital Life
- Sexuality
- Relationships 
- And more.

DK's bestselling Help Your Kids With series contains crystal-clear visual breakdowns of important subjects. Simple graphics and jargon-free text are key to making this series a user-friendly resource for frustrated parents who want to help with children get the most out of life. Get help with anything from geography and music to maths, SATs, and growing up.
About the Author
---
US Consultant Dr. Karen Rayne provides advice and support to parents on how to educate their children and teenagers about sex and sexuality. Karen's knowledge about adolescent development and education provides her with a solid background for guiding parents through these tricky conversations. She also moonlights as a sex educator for children and adults. Recently, she authored Breaking the Hush Factor: Ten Rules for Talking with Teenagers about Sex. She lives in Austin, TX.
Praise For…
---
"Every page of the book… creates a welcoming and familiar atmosphere for learning about a potentially intimidating subject." — GeekDad