Accountable Care Organizations: Value Metrics and Capital Formation (Hardcover)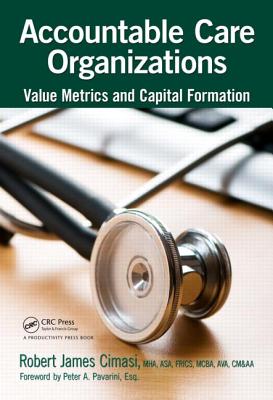 $120.00
This item is backordered and not currently available. Please contact us for an estimated availability date.
Description
---
An accountable care organization (ACO) is a healthcare organization characterized by a payment and care delivery model that seeks to tie provider reimbursements to quality metrics and reductions in the total cost of care for an assigned group of patients. Accountable Care Organizations: Value Metrics and Capital Formation explores the historical background and evolution of the ACO model as the basis for the development of the value metrics and capital formation analyses that are foundational to assessing the current efficacy and capacity for change.
The book examines the four pillars of value in the healthcare industry:
regulatory, reimbursement, competition, and technology
in addressing the value metrics of ACOs, including requirements for capital formation, financial feasibility, and economic returns. It focuses the discussion of non-monetary value on a review of aspects of population health within the context of such objectives as improved quality outcomes and access to care.
Explains why ACOs might be the cost-containment and quality improvement answer the industry has been looking for
Describes the circumstances and capital structures where ACOs represent a sound investment
Includes a foreword by Peter A. Pavarini, Esq.
The book examines the positive externalities of the ACO model, including results for third parties outside the basic construct of the ACO contracts shared savings payments. It also discusses the potential role and opportunities for consultants in assisting their provider clients in the consideration, development, implementation, and operation of an ACO.
About the Author
---
Robert James Cimasi, MHA, ASA, FRICS, MCBA, AVA, CM&AA, is chief executive officer of Health Capital Consultants (HCC), a nationally recognized healthcare financial and economic consulting firm headquartered in St. Louis, Missouri, since 1993. Cimasi has more than 25 years of experience in serving clients, with a professional focus on the financial and economic aspects of healthcare service sector entities including valuation consulting and capital formation services; healthcare industry transactions including joint ventures, mergers, acquisitions, and divestitures; litigation support and expert testimony; and certificate-of-need and other regulatory and policy planning consulting. Cimasi holds a master's in health administration from the University of Maryland and holds several professional designations: Accredited Senior Appraiser (ASA-American Society of Appraisers), Fellow Royal Intuition of Chartered Surveyors (FRICS-Royal Institute of Chartered Surveyors), Master Certified Business Appraiser (MCBA-Institute of Business Appraisers), Accredited Valuation Analyst (AVA-National Association of Certified Valuators and Analysts), and Certified Merger & Acquisition Advisor (CM&AA-Alliance of Merger & Acquisition Advisors). He has served as an expert witness in numerous court cases and has provided testimony before federal and state legislative committees. He is a nationally known speaker on healthcare industry topics, the author of several books, including The Adviser's Guide to Healthcare (AICPA. 2010) and Healthcare Valuation: The Financial Appraisal of Enterprises, Assets, and Services in the Era of Reform (Wiley, 2005), as well as numerous chapters, published articles, research papers and case studies, and is often quoted by healthcare industry press. In 2006, Cimasi was honored with the prestigious Shannon Pratt Award in Business Valuation conferred by the Institute of Business Appraisers. Cimasi serves on the editorial board of the Business Appraisals Practice of the Institute of Business Appraisers, of which he is a member of the College of Fellows. In 2011, he was named a Fellow of the Royal Institution of Chartered Surveyors (RICS) and serves on the editorial board of the RICS Modus Americas journal. Cimasi is also the current chair of the American Society of Appraisers Healthcare Special Interest Group (ASA HSIG) subcommittee.