Essential Management Skills for Pharmacy and Business Managers (Hardcover)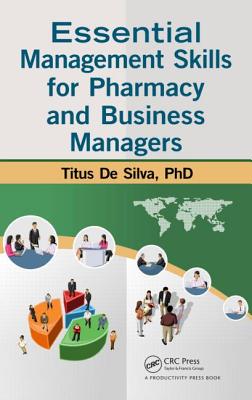 $89.94
This item is backordered and not currently available. Please contact us for an estimated availability date.
Description
---
As a manager you will be expected to resolve a range of legal, ethical, operational, human resource, and financial issues that affect your organization. Essential Management Skills for Pharmacy and Business Managers supplies the understanding you will need to manage the day-to-day challenges in this increasingly competitive environment. Presenting a wealth of information on how to resolve common issues across all sectors of the pharmacy environment, it uses case studies to illustrate the methods required to create a patient-focused business where teamwork flourishes and continuous improvement becomes a reality.
The book describes the kinds of things that will most often go wrong in organizations of all types and sizes and provides proven methods for resolving these issues. It explains how to develop and implement an effective quality management system in the pharmacy or a retail operation that complies with external standards. Outlining an efficient performance appraisal system, it describes how to manage diversity and details time-tested problem solving, conflict management, and stress management techniques. With coverage that includes employee management, quality management, and quality assurance, the book describes how to create a harmonious work environment that promotes effective communication between pharmacy staff, medical professionals, care givers, patients, and customers. Complete with links to further information in each chapter, it arms you with the tools to empower and motivate your employees to provide world-class patient and customer care.
About the Author
---
Titus De Silva, PhD gained his pharmacy degree (with honors) from the University of Manchester in the United Kingdom. He has worked in the United Kingdom, New Zealand, Japan, and Kuwait in all sectors of pharmacy practice (hospital, community, academia, research, and industry) and also in the beverage industry. For over 30 years, he held senior management positions in New Zealand, the United Kingdom, and Sri Lanka. Before immigrating to New Zealand, he was the head of the National Drugs Quality Control Laboratory in Sri Lanka. During his time in Sri Lanka, he was a visiting lecturer and examiner at the Faculty of Medicine of the University of Colombo School of Pharmacy. While in Kuwait, he served as a specialist in drug analysis and quality control under its Ministry of Health. In Japan, he was attached to the National Institute of Hygienic Science in Tokyo, where he worked with experts in pharmaceutical science. Organizations he worked for include Southland Hospital Board (New Zealand), Hoechst Pharmaceuticals (New Zealand), Pernod-Ricard (New Zealand), Eli Lilly Research (UK), Ballinger's Pharmacy (New Zealand), Boots Chemists (UK), and Lloyds Pharmacy (UK). In addition to his pharmacy qualifications, he has a BSc degree in chemistry, postgraduate diploma in computer science, and MBA and PhD in management science. He is a chartered chemist (CChem), a Fellow of the Royal Society of Chemistry (FRSC), a member of the Royal Pharmaceutical Society of Great Britain (MRPharmS), and a member of the Pharmaceutical Society of New Zealand (MPS).Pernod-Ricard (previously Montana Wines Limited) owned the largest multiple winery in New Zealand, with wineries in four regions. In his role as their corporate quality assurance manager, he was responsible for developing and implementing quality, food safety and occupational safety, and hygiene management systems to comply with international standards. His efforts were rewarded when Montana Wines Limited became the first winery in Australasia to have its quality management system certified to the ISO 9000 standard. In his role, he coached and trained staff for management positions.Dr. De Silva's expertise has been sought after by professional organizations. He has presented numerous papers at international seminars and published a number of papers and articles on quality management, food safety, pharmacy practice, and topics of general interest in management journals and magazines. He was the co-author of the chapter "Hazard Analysis and Critical Control Point" in the book Handbook of Food Preservation, published by Marcel Dekker, New York (1st edition) (1999). In the second edition of Handbook of Food Preservation, he was the author of the revised "Hazard Analysis and Critical Control Point (HACCP)" chapter and the "Good Manufacturing Practices" chapter (published by CRC Press, Boca Raton, Florida, in July 2007). His book Handbook of Good Pharmacy Practice was published in 2011in Sri Lanka.He has gained competency as a lead auditor and was a registered auditor in quality management and occupational safety and hygiene. Dr. De Silva was a member of the review board of the Joint Accreditation System of Australia and New Zealand (JAS-ANZ) and a member of its technical advisory council. JAS-ANZ is the sole body responsible for accrediting certifying bodies in Australia and New Zealand. He has also been enlisted as a consultant to United Nations Industrial Development Organization (UNIDO). In 2004, the New Zealand government awarded him the Queen's Service Medal for services to the New Zealand community.