The Pottery Cottage Murders: The first-hand account of a family held hostage (Paperback)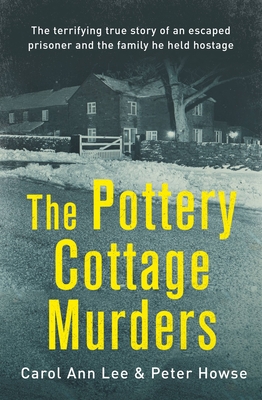 List Price: $17.99
Our Price: $15.29
(Save: $2.70 15%)
Description
---
A psychopathic criminal on the run from prison. A family of five held hostage in their home. A frantic police manhunt across the snowbound Derbyshire moors. Just one survivor.


The definitive account of the terrifying 1977 Pottery Cottage murders that shocked Britain.

For three days, escaped prisoner Billy Hughes played macabre psychological games with Gill Moran and her family, keeping them in separate rooms of their home while secretly murdering them one by one. On several occasions Hughes ordered Gill and her husband Richard to leave the house for provisions, confident that they would return without betraying him in order to protect their loved ones.

Blizzards hampered the desperate police search, but they learned where the dangerous convict was hiding and closed in on the cottage. A high-speed car chase on icy roads ended with a crash and the killer being shot as he swung a newly sharpened axe at his final victim. This was Britain's first instance of police officers committing 'justifiable homicide' against an escapee.

The story of these terrible events is told here by Carol Ann Lee and Peter Howse, the former chief inspector who saved Gill Moran's life over forty years ago.

Peter's professional role has permitted access to witness statements, crime scene photographs and police reports. Peter Howse and Carol Ann Lee have made use of these, along with fresh interviews with many of those directly involved, to tell a fast-paced and truly shocking story with great insight and empathy.


About the Author
---
Carol Ann Lee (Author)
CAROL ANN LEE's first book, Roses From The Earth: The Biography of Anne Frank, was published in fifteen languages and included a foreword by Anne's cousin Buddy Elias, who stated: 'Of the many authors, writers and historians who have written about Anne Frank and her father Otto Frank, Carol Ann Lee is the most knowledgeable and sets new scholarly standards.' Her subsequent book, The Hidden Life of Otto Frank was a Guardian Book of the Week. One of Your Own: The Life and Death of Myra Hindley is the definitive study not only of Hindley, but of the Moors Murders case. It was both a Times and an Independent Book of the Week and was featured on Radio 4's Woman's Hour. Carol's biography of Ruth Ellis, A Fine Day for a Hanging was shortlisted for the 2013 CWA Non-Fiction award. Her Murders at White House Farm is being filmed by New Pictures for broadcast on ITV1 in 2019. Carol's Somebody's Mother, Somebody's Daughter: The Victims and Survivors of the Yorkshire Ripper will be published in Spring 2019.

Peter Howse (Author)
PETER HOWSE spent a year in Iraq as a member of the RAF while doing National Service in 1955, following which he joined the former Derby Borough Police. He served for ten years in uniform before becoming a training instructor. He was subsequently promoted to Chief Inspector as Sub-Divisional Commander of the Buxton South Sub-Division. Peter was awarded a Queen's Commendation for bravery in recognition of his actions in the Pottery Cottage case. Together with Detective Chief Inspector Mike Cole, he set up Crimestoppers on TV, which has become an established nationwide form of combating crime.
Praise For…
---
Praise for Carol Ann Lee's Roses from the Earth: The Biography of Anne Frank:
Excellent . . . serious, sensitive and scrupulous.
—
Sunday Telegraph
Praise for Carol Ann Lee's The Hidden Life of Otto Frank:
Significant and fascinating. An absorbing biography of Anne's father.
—
Financial Times
Praise for Carol Ann Lee's novel The Winter of the World:
This brilliant story . . . resounds with truth. A novelist who writes of the subtlety of souls.
—
Le Monde
Praise for Carol Anne Lee's The Murders at White House Farm:
The definitive account.
—
Yorkshire Post
Praise for Carol Anne Lee's A Fine Day For A Hanging: The Real Ruth Ellis Story:
Worthy of Truman Capote . . . the finest account of awaiting execution that I have ever read.
Praise for Carol Anne Lee's One of Your Own: The Life & Death of Myra Hindley:
Brilliant . . . like In Cold Blood.
Praise for Carol Anne Lee's The Murders at White House Farm:
Carol Ann Lee has written a true account.
Praise for Carol Anne Lee's A Fine Day For A Hanging: The Real Ruth Ellis Story:
A forensically researched book that casts a haunting new light on the last woman to be hanged in Britain.
—
Daily Mail