Jonathan Strange & Mr Norrell: A Board Game of English Magic (Game)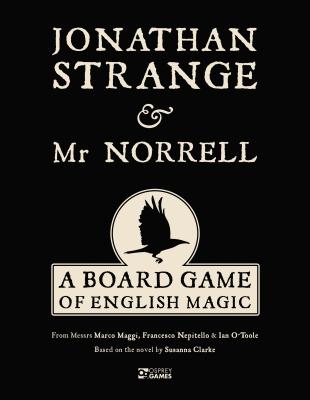 List Price: $50.00
Our Price: $47.50
(Save: $2.50 5%)
Description
---
A 2-4 player game for natural magicians and careful readers alike, based on the cult-classic book by Susanna Clarke.
Set during the events of the cult-classic book, Jonathan Strange & Mr Norrell sees players delve into the world of English magic, developing their talents and expanding their social reach as they aim to become the most celebrated magician of the age.
Take on the role of an aspiring magician, including the titular characters Jonathan Strange and Mr Norrell themselves, and start them down the path to greatness. Build up your power and status by travelling across Europe and London, performing feats of magic and attending social engagements. The most celebrated magician will face the gentleman with the thistle-down hair, but only the strongest will defeat him.
Number of Players: 2-4
Ages: 14+
Playing Time: 60-80 minutes
Components: Map of Europe, 4 Magician boards, 4 Player markers, Fairy marker, 12 Cards of Marseilles, 170+ cards including spells, invitations, Feats of Magic, and more.
Format: Book-style
About the Author
---
Susanna Clarke was born in Nottingham, England, in 1959, the eldest daughter of a Methodist minister. She was educated at St Hilda's College, Oxford, and has worked in various areas of nonfiction publishing. She has published a number of short stories and novellas in American anthologies, as well as her own most recent collection of short stories entitled "The Ladies of Grace Adieu, and Other Stories."