Tiger vs Churchill: North-West Europe, 1944–45 (Duel) (Paperback)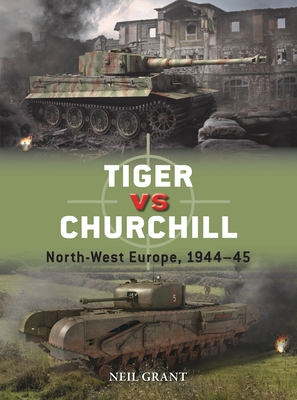 List Price: $22.00
Our Price: $20.90
(Save: $1.10 5%)
Description
---
This fully illustrated study assesses the origins, development, and combat record of the legendary Tiger and Churchill Tanks during World War II.

The Tiger and the Churchill are two of the most recognizable heavily armoured tanks of World War II. Both were designed hastily in the early years of the war, and both witnessed inauspicious debuts in battle in August 1942 (the Churchill in the disaster at Dieppe, the Tiger near Leningrad). Despite their heavy weight, both tanks had surprisingly good tactical mobility, and were intended to serve in breakthrough operations. Yet there were key differences between them too, chiefly in the effectiveness of their main armament. This fascinating and detailed work explores the design and development of these famous tanks and the influence this had on their head-to-head encounters, the support services each tank relied upon, and the skills and experiences of the crews that fought in them. The specific battlefield conditions of Normandy in June and July 1944 are also examined, exploring the effect they had on the duels between these two heavyweight AFVs. .
About the Author
---
Neil Grant has a degree in archaeology, and has worked for English Heritage and Historic England. He has written several volumes for Osprey Publishing, including Warrior 183: British Tank Crewman 1939–45. Neil is a Trustee of the Royal Armouries and a committee member of the Ordnance Society. He also runs the social media page for the membership organization of the Tank Museum in Bovington, UK.

Richard Chasemore completed a four-year course in technical illustration in 1992. Since then, he has worked on a wide variety of projects in publishing and advertising, using both traditional and digital media. He has lectured in airbrush techniques, and written six educational books on digital art. A long-standing contributor to the top-selling Star Wars Incredible Cross Sections series, his contribution has taken him to Skywalker Ranch in California to work with Lucasfilm's concept artists. Richard also enjoys music and is a co-founder of Superglider Records.
Praise For…
---
"Readers will find this a thought provoking work and the conclusion is the subject of many debates." - John Norris, Gun Mart & Militaria Mart magazine