Panzer III (Hardcover)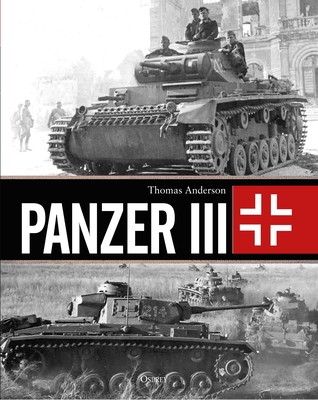 List Price: $50.00
Our Price: $47.50
(Save: $2.50 5%)
Description
---
This highly illustrated title details the history of the Panzer III throughout World War II, from its early development in the pre-war years through its pivotal role in the Blitzkrieg campaigns in Poland and Western Europe and its eventual obsolescence on the Eastern Front.

The Panzer III was the mainstay of the German armored force in the early years of World War II, and spearheaded the victories in Poland, Western Europe, and the Balkans. Designed and developed in the mid-1930s, it was originally equipped with a 3.7cm gun and with 30mm thick armor. Early combat in Poland and France saw the need for this to be upgraded, and later models were armed with a 5cm KwK L/42 gun and had the frontal armor reinforced to 60mm by adding extra plating. This later version proved to be particularly effective during the campaigns in the Balkans and against British armor in the North African desert campaign. However, in the first months of Operation Barbarossa -- the German invasion of the Soviet Union -- it became obvious to battlefield commanders that the Panzer III had become obsolete as a main battle tank and it began to be replaced by the Panzer IV as the main front-line battle tank. The Panzer III was relegated to a secondary role, but its chassis proved the basis for the Sturmgeschutz III, which became the most widespread German armored vehicle of World War II.
About the Author
---
Thomas Anderson is a specialist on German armoured fighting vehicles of World War II, and his other titles for Osprey include Panzer IV and Sturmgeschütz. He regularly contributes to popular modelling and historical magazines, including Military Modelcraft International (UK), Steel Art (Italy), Historia Militar (Spain) and Batailles & Blindes (France). He lives in Hänigsen, Germany.
Praise For…
---
"A well written, well examined and thorough dive into an often-forgotten part of the German armoured machine." —Classic Military Vehicle

"Well illustrated and superbly researched... this is a reference book with class and is sure to please anyone with an interest in WWII German tanks, from modeller to historian." —Gun Mart & Militaria Mart magazine