Sign Here for Sacrifice: The Untold Story of the Third Battalion, 506th Airborne, Vietnam 1968 (Hardcover)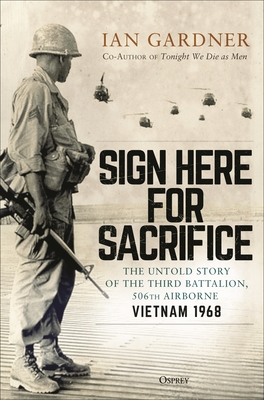 List Price: $30.00
Our Price: $25.50
(Save: $4.50 15%)
Warehouse, In Stock | Usually Ships in 1-5 Days | New
Description
---
A hard-hitting history of the U.S. airborne unit who made a name for themselves in the unforgiving jungles of South Vietnam.

"It was easier killing than living." Third Battalion 506th Airborne veteran

Drawing on interviews with veterans, many of whom have never gone on the record before, Ian Gardner follows up his epic trilogy about the 506th Parachute Infantry Regiment in World War II with the story of the unit's reactivation at the height of the Vietnam War. This is the dramatic history of a band of brothers who served together in Vietnam and who against the odds lived up to the reputation of their World War II forefathers.

Brigadier General Salve Matheson's idea was to create an 800-strong battalion of airborne volunteers in the same legendary "Currahee" spirit that had defined the volunteers of 1942. The man he chose to lead them was John Geraci, who would mold this young brotherhood into a highly cohesive and motivated force.

In December 1967, the battalion was sent into the Central Highlands of Lam Dong Province. Geraci and his men began their Search and Destroy patrols, which coincided with the North Vietnamese build-up to the Tet Offensive and was a brutal introduction to the reality of a dirty, bloody war. Gardner reveals how it was here that the tenacious volunteers made their mark, just like their predecessors had done in Normandy, and the battalion was ultimately awarded a Valorous Unit Citation. This book shows how and why this unit was deserving of that award, recounting their daily sanguinary struggle in the face of a hostile environment and a determined enemy.

Through countless interviews and rare personal photographs, Sign Here for Sacrifice shows the action, leadership, humor and bravery displayed by these airborne warriors.
About the Author
---
Ian Gardner served for five years in Support Company, 10th Battalion, The Parachute Regiment. After a visit to Normandy in 2000 he decided to focus on the 3rd Battalion of the 506th Parachute Infantry Regiment, which led to the critically acclaimed trilogy Tonight We Die As Men, Deliver Us From Darkness and No Victory in Valhalla. He is also the author of Airborne: The Combat Biography of Ed Shames of Easy Company. He is married with two grown-up children and lives near Aldershot in Hampshire.
Praise For…
---
"We need books like this because they remind us that the same dedication, teamwork, optimism and courage that defined the World War II generation also defined the generation that fought the war in Vietnam." —Martin K.A. Morgan, Historian and Author

"This fabulous book reveals our fears, hardships, humor, trust in each other and creation of a bond that still endures to this day. A must-read for teachers and students of combat leadership." —Joe Alexander, Platoon Leader, A Company

"A riveting story of heroism, hardship, and tough combat in Vietnam that vividly brings to life the experiences of an extraordinary unit." —General David Petraeus

"Ian Gardner has produced a narrative that is remarkable in keeping the reader engaged in the events through a roller coaster ride of emotions… While the prose is gritty and at times shocking, it is honest in describing the realities of combat often at close quarters in a hostile climate and landscape against a highly experienced and determined enemy." —David Rattee, Honorary Member of US Army 506th Inf. Regt.

"Thoroughly researched, with a fascinating array of previously unseen photographs, this is a must-read for those interested in one unit's Vietnam War." - Classic Military Vehicle

"A useful addition to the vast library of books on the US intervention in Vietnam, it provides the reader with a down to earth perspective of one unit's fight in a conflict." - Aspects of History