The HAWK Air Defense Missile System (New Vanguard) (Paperback)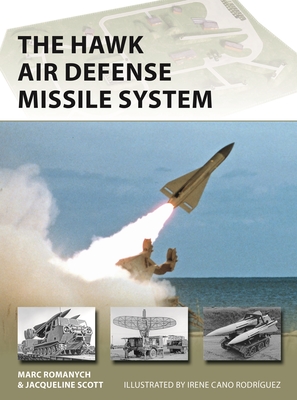 List Price: $19.00
Our Price: $16.15
(Save: $2.85 15%)
Warehouse, In Stock | Usually Ships in 1-5 Days | New
Description
---
This is the first history of the legendary US Army's HAWK missile system, the world's first mobile air-defense missile system, which saw service and combat around the world.

Designed to counteract the threat posed by advanced 1950s Soviet-built aircraft, the first HAWK unit became operational in 1959. At its peak, it saw frontline service in the Far East, Panama, Europe, and in the Middle East. Units were also used during the Cuban Missile Crisis, Vietnam War, and Persian Gulf War. In the hands of other nations, HAWK proved its efficacy in combat during the Arab-Israeli Wars, Iran-Iraq War, Chadian-Libyan War, and the Iraqi invasion of Kuwait.

Credited with shooting down more than 100 aircraft during its combat career, the HAWK system was respected for its lethality. Such was Soviet concern, that the USSR developed electronic jammers, anti-radiation missiles, and other countermeasures specifically to degrade its effectiveness. The US retired its HAWK systems soon after the Cold War ended in 1991 when air defense priorities shifted from aircraft to ballistic missile defense, yet a modernized version of the system remains in service to this day in many nations.

Packed with archive photos and original artwork, this is the first book about the HAWK system. Featuring research from HAWK technical and field manuals, interviews with HAWK veterans, and detailing the authors' personal experiences with HAWK missile units, it provides a comprehensive study of one of the most lethal and effective air missile systems of all time.
About the Author
---
Marc Romanych is a retired US Army combat arms officer. He has a Bachelor of Arts degree in History from the University of Maryland and a Master of Arts degree in International Relations from St. Mary's University. He has co-authored several books on World War I and II artillery and fortifications for Osprey Publishing.

Jacqueline Scott is a retired US Army officer. As a Military Intelligence officer, she was assigned as an assistant HAWK platoon leader and then S-2 (intelligence officer) of a HAWK battalion deployed in Germany. After becoming a Judge Advocate General's Corps (JAG) officer, she served as an attorney in the 2d Armored Division and the 32d Army Air Defense Command. She is a graduate of the University of Alabama (B.A., English) and Campbell University (J.D.).

Irene Cano Rodríguez (known as Araire) is a freelance artist working and living in Spain. Since 2014, she has worked as a specialized historical illustrator, recreating historical scenes for museums, studios, editorials and magazines. Nowadays she also combines her work as an illustrator with teaching archaeological illustration.
Praise For…
---
"Much investigative work has gone into this little researched AA missile system" -John Ham, Tankette

"As there is now a fine1/35 model of the HAWK missile unit on the market from AFV Club, I am sure many modellers will enjoy this new book and get plenty of ideas on how to set their model into a diorama scene." - Robin Buckland, Military Model Scene