German Field Artillery of World War II (New Vanguard #325) (Paperback)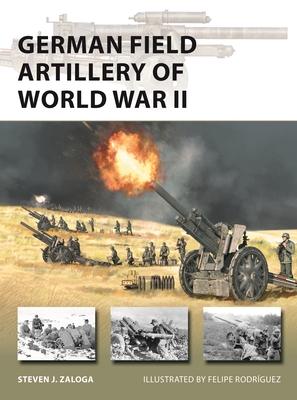 List Price: $20.00
Our Price: $17.00
(Save: $3.00 15%)
Coming Soon - Available for Pre-Order Now
Other Books in Series
This is book number 325 in the New Vanguard series.
Description
---
An illustrated study of the big guns of Hitler's army – the Wehrmacht's field artillery, its capabilities and its role in German fighting units of World War II.

Often overshadowed in military history by the tanks and aircraft of Blitzkrieg, Germany's artillery was key to its methods of waging war throughout World War II. Field artillery remained the primary killer on the battlefield, often responsible for three-quarters of combat casualties inflicted.

Redressing the balance, this book surveys the major Wehrmacht guns of the war, and the basic organizational structure of the German field artillery. Its primary focus is on the divisional field guns, especially the lFH 18 10.5cm field howitzer and the 15cm sFH 18 field howitzer that formed the backbone of German artillery. A brief survey is also made of the infantry guns used at the regimental level, and of corps-level heavy artillery. The issue of the use of"Beutewaffen," captured war-booty field guns, is also looked at, as is the Nebelwerfer and schwere Wurfgerät rocket artillery.

With archive photos and meticulously detailed new illustrations, this book provides a concise study of the German Army's big guns of World War II, how they were organized and how they were used, both on the Eastern and Western fronts.
About the Author
---
Steven J. Zaloga received his BA in History from Union College and his MA from Columbia University. He has worked as an analyst in the aerospace industry for over three decades, covering missile systems and the international arms trade, and has served with the Institute for Defense Analyses, a federal think tank. He is the author of numerous books on military technology and history, including NVG 231: Railway Guns of World War II and NVG 298: German Tanks in Normandy 1944. He currently lives in Maryland, USA.