The Missing Lynx: The Past and Future of Britain's Lost Mammals (Hardcover)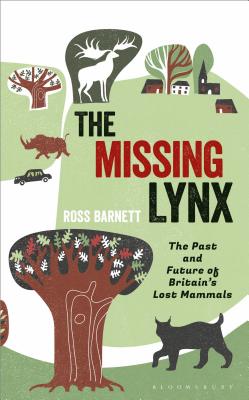 List Price: $24.00
Our Price: $20.40
(Save: $3.60 15%)
Description
---
The story of the magnificent lynx--what its extinction in Britain signifies, and how we might turn the ecological tide.

In The Missing Lynx, Ross Barnett uses case studies, new fossil discoveries, biomolecular evidence and more to paint pictures of these extinct species, and to explore the significance of the lynx's disappearance in ecological terms. He also discusses how the Britons that these animals shared their home with might have viewed them, and why some survived while others vanished.

Barnett also looks in detail and the realistic potential of reintroductions and even of resurrection--topics that capture public interest today. With Beaver now wild again in various parts of Britain and even Great Bustard on Salisbury Plain, what about the return of sabretooths, mammoths, and the aurochs to modern ecosystems? Will we ever be able to bring these animals back? And should we?

At a time where rewilding is moving from pie-in-the-sky to actual reality, this timely and important book looks from a scientific perspective at the magnificent megafauna we've lost, why we lost it and what happened as a result, and how we might realistically turn the ecological tide.
About the Author
---
Ross Barnett is a palaeontologist with a PhD in Zoology from the University of Oxford. He specialises in seeking, analysing and interpreting ancient DNA, but his area of expertise is the genetics and phylogeny of cats, especially the extinct sabretooths. Barnett's research has led to many remarkable findings in recent years and has involved investigating escaped lynx in Edwardian Devon, rubbishing claims that the yeti is an ice-age polar bear and seeking the ancestral home of the enigmatic Orkney vole. In 2018, he received the Palaeontological Association's Gertrude Elles Award for Public Engagement. Barnett currently lives in the Highlands of Scotland with his wife and two daughters.
Praise For…
---
"As elegies go, The Missing Lynx is an awful lot of fun." —Tom Chivers, The Times

"Rewilding is certainly romantic but is it practical or even desirable? It all needs thinking through, and Barnett, who makes a compelling case in favour of the idea, can help." —Stuart Blackman, BBC Wildlife

"Barnett's writing is clear and unobtrusively witty ... And the book is full of cheery, Terry Pratchett-esque footnotes." —Tom Chivers, The Times

"Fresh and assured ... An often moving tribute to lost marvels." —Barbara Kiser, Nature

"His writing is full of admiration for the resourcefulness of Palaeolithic tribespeople – his descriptions of an Ice Age economy that ran on mammoths, and of the mammoth hunts themselves, are evocative." —Tom Chivers, The Times

"A wonderful and haunting book: so rich in detail that the mammals of Britain's past seem brought to life again, and yet so unflinching in its portrayal of the brute facts of extinction that readers will ache for all that has been lost." —Tom Holland, author and historian

"With his fast-paced and amusing tales of some of the most awe-inspiring species lost within geologically recent times, The Missing Lynx brings Britain's Ice Age back to life." —Professor Beth Shapiro, author of How to Clone a Mammoth

"A fascinating account of the large herbivores and predators that have disappeared from Britain since humans reached our islands. This should be essential reading for those who advocate rewilding." —Professor Richard Fortey, palaeontologist and author

"The story of Britain's Ice Age bestiary, told with bittersweet humour, and a clarion call to us all to step up and fight future extinctions." —Dr Victoria Herridge, evolutionary biologist and presenter