Journey to a High-Achieving School: Eliminate Destructive Excuses (Hardcover)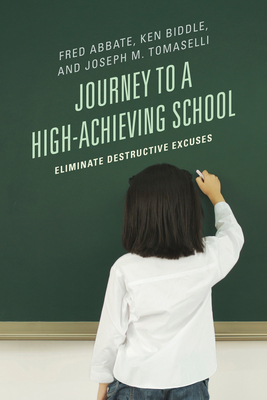 This item is backordered and not currently available. Please contact us for an estimated availability date.
Description
---
Journey to a High-Achieving School: Eliminate Destructive Excuses examines the range of devastating excuses often expressed for failure to attain significant improvement in our schools. Using the methods of systems thinking and leadership practices that are employed in high-performing organizations of all kinds, this book shows concretely and specifically that what is at the root of these excuses can be overcome. The core ideas at work in the volume are based on the authors' well-regarded Academy for Education Leaders, an intensive course of seminars conducted for school superintendents, principals, and other educational leaders for the past several years. This is not a "quick fix" manual offering magic wands or silver bullets. It is a carefully-structured guidebook that can clearly and demonstrably help educational leaders at all levels of accountability begin to build a serious culture of excellence within their schools and school districts. Improvement will take time, but as the processes become familiar, school leaders can uncover and address the complex, but confused assumptions that keep standing in the way of the substantial and measurable improvements that must be made for our society's educational future.
About the Author
---
Fred J. Abbate has worked as a corporate executive, major industry association CEO, organizational consultant, university professor and Director of Leadership New Jersey for over 30 years. He holds a Ph.D. from Columbia University, has published three books, and has lectured widely on educational reform, leadership theory, decision-making, communications and strategic planning. Ken Biddle has over 25 years experience in leadership development and in facilitating the implementation of change management strategies. He has held several key executive positions, including Director of Quality within a large federal agency, Vice President and Senior Partner in an international consulting firm, and Executive Director of a state-wide nonprofit organization. Joseph Tomaselli has been an educator for over 30 years, having served as a teacher, guidance counselor, principal, project director, board of education member, and adjunct professor. He has led New Jersey's statewide initiative to bring continuous improvement and world-class standards to schools, and he created the Achievement-Based Character Development Program aimed at improving academic achievement and creating a safer school climate.