Protectors (Star Trek: Voyager) (Mass Market)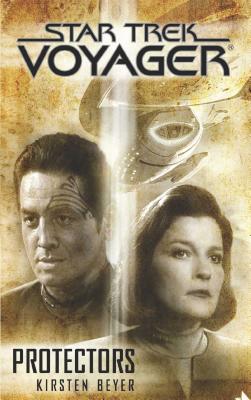 List Price: $9.99
Our Price: $9.49
(Save: $0.50 5%)
Description
---
An all-new novel that continues the epic saga of the Starship Voyager!

Following the destruction of four fleet vessels at the hands of the Omega Continuum, the U.S.S. Voyager and U.S.S. Demeter set course for a region of the Delta Quadrant far beyond any­thing previously explored. Captain Chakotay is determined to prove to Starfleet Command that the fleet's ongoing mission is vital to Federation interests . . . and the key to doing so may lie in a distress call Voyager received nine years earlier but could not investigate.

Meanwhile, Vice Admiral Kathryn Janeway is recalled to the Alpha Quadrant for an evaluation period to determine her next assignment. Given the trauma she has recently endured, Admiral Akaar, Starfleet's commander in chief, is questioning Janeway's fitness to command the fleet. Janeway's primary concern remains the fleet's safety— for their mission to continue, she must find a way to secure the resources they require. But the uncertainty of her superior officers has left her powerless to act in their best interests.
About the Author
---
Kirsten Beyer was a cocreator of the acclaimed hit Paramount+ series Star Trek: Picard, where she served as writer and supervising producer for season one and a coexecutive producer for season two. She has also written and produced Star Trek: Discovery and is currently a coexecutive producer on Star Trek: Strange New Worlds. She is the New York Times bestselling author of the last ten Star Trek: Voyager novels, including 2020's To Lose the Earth, for which she was the narrator of the audiobook edition. She contributed the short story "Isabo's Shirt" to Star Trek: Voyager: Distant Shores Anthology. In 2006, Kirsten appeared at Hollywood's Unknown Theater in their productions of Johnson Over Jordan, This Old Planet, and Harold Pinter's The Hothouse, which the Los Angeles Times called "unmissable." She lives in Los Angeles.