Upside: The New Science of Post-Traumatic Growth (Paperback)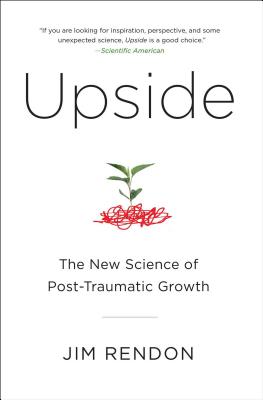 List Price: $17.99
Our Price: $17.09
(Save: $0.90 5%)
Warehouse, In Stock | Usually Ships in 1-5 Days | New
Description
---
Through cutting-edge research and thoughtful personal stories comes a "compassionate, friendly, and empathetic" (Kirkus Reviews) exploration of post-traumatic growth—the emerging idea that psychological trauma doesn't destroy a person, but can instead spark future growth, self-improvement, and success.

What if there's an upside to experiencing trauma?

Most survivors of trauma—whether they live through life-threatening illnesses or accidents, horror on the battlefield, or the loss of a loved one—can suffer for months, even years. But recently, psychologists have discovered that PTSD, or Post-Traumatic Stress Disorder, is only a piece of the whole experience. With the right circumstances and proper support, many trauma survivors also benefit after a terrible experience. They emerge stronger, more focused, and with a new perspective on their future.

In the tradition of Po Bronson and Paul Tough, journalist Jim Rendon delivers a deeply reported and unique look at the life-changing implications of post-traumatic growth. The pain and anguish caused by traumatic events can become a force for dramatic life change. It can move people to find deeper meaning in their lives and drive them to help others. But how can terrible experiences lead to remarkable, positive breakthroughs?

Upside seeks to answer just that by taking a penetrating look at this burgeoning new field of study. Comprised of interviews with leading researchers and dozens of inspiring stories, Rendon paints a vivid and comprehensive portrait of this groundbreaking field and offers a roadmap for anyone trying to understand how personal tragedy can lead to a more hopeful and positive future.
About the Author
---
Jim Rendon is a graduate of the journalism school at UC Berkeley. He is a former staff writer at SmartMoney magazine and Metro, Silicon Valley's alternative weekly, and a veteran freelance journalist whose work has appeared in The New York Times, Mother Jones, Rolling Stone, and Fortune. He has written about post-traumatic growth for Marie Claire and The New York Times Magazine.
Praise For…
---
"No one gets out of life without some trauma. Jim Rendon delves behind the tragic face to find out why so many of us post-traumatic survivors emerge stronger, in search of more meaningful ways to live. Rendon's original psychological reporting and poignant writing points us to the passage to hope and inspires us to help others."
— Gail Sheehy, author of Passages

"None of us wants it, but severe stress may not be as bad as we think. Upside provides authentic hope, grounded in science and enlivened by real-life stories, that it is possible to emerge from a traumatic experience not diminished, but somehow enlarged by it. This book offers scientific evidence,personal understanding, and practical tools to transform trauma into an occasion for growth."
— Henry Emmons, MD, author of The Chemistry of Joy

"Upside: The New Science of Post-Traumatic Growth presents the research data, too long ignored, behind the stories of people's remarkable healing and thriving from trauma. . . . The key elements of healing and thriving, not in spite of but because of trauma – creating a coherent narrative, reaching out for help and helping others, expressing the pain, focusing on the positive, bonding with those who share similar experiences, resourcing through religious faith, creativity, physical activity and therapy – can all lead to experiences of meaning and fulfillment unimaginable before the trauma. Upside is a true gift to the field of trauma recovery. The message can no longer be ignored. Post-traumatic growth is not only possible; it's our birthright."
— Linda Graham, MFT, author of Bouncing Back: Rewiring Your Brain for Maximum Resilience and Well-Being

"A remarkably readable blend of inspiring stories and research, Upside beautifully shows us how even our worst nightmare can profoundly enrich our lives. Well worth the read!"
— Glenn Schiraldi, Ph.D., Lt. Colonel (USAR, Ret.), author of The Complete Guide to Resilience and founder of Resilience Training International

"Humorous, compassionate, friendly, and empathetic…. Rendon offers not just a spoonful of medicine, but also a furtherance of works by Frankl, Abraham Maslow, and his new, revitalized acquaintances."
— Kirkus Review

"Rich and detailed … a tapestry of poignant stories about a wide range of people who have triumphed over agonizing losses—of children, spouses, limbs, fortunes, careers, dreams—interwoven seamlessly with the results of dozens of relevant scientific studies and stories about the pioneering researchers who conducted them. … If you are looking for inspiration, perspective and some unexpected science, Upside is a good choice."
— Scientific American Mind