Bad Things Happen: Satan Gets to Reign; God Gets the Blame (Paperback)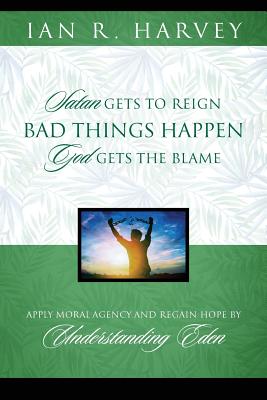 List Price: $12.95
Our Price: $11.53
(Save: $1.42 11%)
Warehouse, In Stock | Usually Ships in 1-5 Days | New
Description
---
Why do bad things happen to so many people, good and bad?
I suggest that what our first parents chose to do in Eden matters a great deal more than we ever considered. They (and then we) abandoned proactive moral agency for a more passive (and reactive) existence allowing Lucifer to run roughshod through our world.
This book will first affirm your intuition that there is something terribly wrong in the world, then it will suggest a means to make it right. As a result of reflecting on these ideas, the reader will take hope in a realistic understanding of both sin and perfection and will cease the practice of harsh self-judgment because Jesus' atoning work will feel more comprehensible, accessible and real.
Let's do more than talk about religion and actually get to the root of religion's purpose.
What is the will of God in my life? Does He have a Plan for me? What is His ability to involve Himself in my life? Most of us tentatively believe that what is going on must be the will of God, because He is all-powerful, because He can, and because He is in charge. Or at the very least we may be confused about what is the will of God, given conflicting signals all around us. Some have decided that if such a God is in charge, willfully causing all this mayhem, then the resulting suffering and chaos they observe draw them away from faith altogether.
Perhaps those folks do not internalize very well that which is so fundamental to our theology: moral agency means that God isn't doing this to anyone. God isn't manipulating our lives. Rather, we are doing this to ourselves and to each other. Because of these observations, we can deduce there is also much randomness to the events and situations that occur in our lives.
God's "plan" for me is that I should understand and exercise my own moral agency, face multiple legitimate and opposing options, express my choices through my actions and then experience all the associated natural consequences. I suggest that truly comprehending and explaining what moral agency is can be a great and positive force of ecumenism in our time. It is something all believers in the Garden of Eden can come together on, along with a core faith in a loving and saving God who awaits our choice to receive His bounteous blessings. This book talks about how to do just that.
In effect, Jesus' offer of salvation revokes the original curse of exile and invites the progeny of Adam and Eve back to the starting point: now we find ourselves in the proxy garden--the modern temple--for a 'do-over'. We once again face the Tree of Life and its opposition proffering death, as if our loving Father is telling us "let's try this again and see if you can get it right, but it's all up to you--will you believe me this time? Will you choose me, your Father?"
Author's proceeds go to humanitarian efforts at ProvidentLiving.org