Black and Queer on Campus (Hardcover)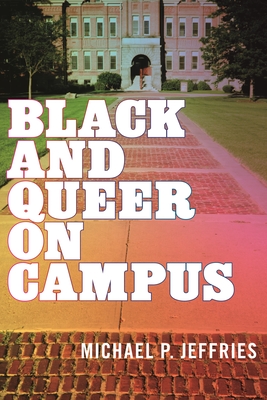 $36.00

Warehouse, In Stock | Usually Ships in 1-5 Days | New
Description
---
An inside look at Black LGBTQ college students and their experiences
Black and Queer on Campus
offers an inside look at what life is like for LGBTQ college students on campuses across the United States. Michael P. Jeffries shows that Black and queer college students often struggle to find safe spaces and a sense of belonging when they arrive on campus at both predominantly white institutions and historically black colleges and universities. Many report that in predominantly white queer social spaces, they feel unwelcome and pressured to temper their criticisms of racism amongst their white peers. Conversely, in predominantly straight Black social spaces, they feel ignored or pressured to minimize their queer identity in order to be accepted. This fraught dynamic has an impact on Black LGBTQ students in higher education, as they experience different forms of marginalization at the intersection of their race, gender, and sexuality. Drawing on interviews with students from over a dozen colleges, Jeffries provides a new, much-needed perspective on the specific challenges Black LGBTQ students face and the ways they overcome them. We learn through these intimate portraits that despite the gains of the LGBTQ rights movement, many of the most harmful stereotypes and threats to black queer safety continue to haunt this generation of students. We also learn how students build queer identities. The traditional narrative of "coming out" does not fit most of these students, rather, Jeffries describes a more gradual transition to queer acceptance and pride.
Black and Queer on Campus
sheds light on the oft-hidden lives of Black LGBTQ students, and how educational institutions can better serve them. It also highlights the quiet beauty and joy of Black queer social life, and the bonds of friendship that sustain the students and fuel their imagination.
About the Author
---
Michael P. Jeffries is Dean of Academic Affairs, Class of 1949 Professor in Ethics, and Professor of American Studies at Wellesley College. He is the author of Behind the Laughs: Community and Inequality in Comedy, Paint the White House Black: Barack Obama and the Meaning of Race in America, and Thug Life: Race, Gender, and the Meaning of Hip-Hop. He has published dozens of essays and works of criticism in The New York Times, The Atlantic, The Guardian, and The Boston Globe, and has been interviewed by The Washington Post, The New York Times, and NPR.