States of Confusion: How Our Voter Id Laws Fail Democracy and What to Do about It (Hardcover)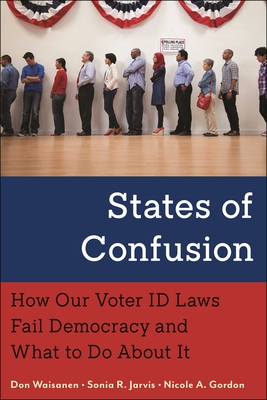 $36.00

Warehouse, In Stock | Usually Ships in 1-5 Days | New
Description
---
Shows the maddening difficulties that voter ID requirements create for participants in US democracy and offers concrete solutions for every person's vote and voice to count
Over the past decade, and throughout the COVID-19 pandemic, the number of voter ID laws has skyrocketed, limiting the ability of nearly twenty-five million eligible voters from exercising their constitutional right to cast a vote. In
States of Confu
sion, Don Waisanen, Sonia Jarvis, and Nicole Gordon explore this crisis and the difficulties it has created for American voters, offering practical solutions for this increasingly important problem. Focusing on ten states with the strictest voter documentation requirements, the authors show how people face major barriers to exercising their fundamental democratic right to vote and are therefore slipping through the cracks of our electoral system. They explore voter experiences by drawing on hundreds of online surveys, audits of 150 election offices, community focus groups, and more. Waisanen, Jarvis, and Gordon call on policymakers to adopt uniform national voter identification standards that are simple, accessible, and cost-free.
States of Confusion
offers a comprehensive and up-to-date look at the voter ID crisis in our country, as well solutions for practitioners, government agencies, and citizens.
About the Author
---
Don Waisanen (Author) Don Waisanen is Professor of Communication at the Marxe School of Public and International Affairs at Baruch College, City University of New York (CUNY). He is the author of several books, including Political Conversion: Personal Transformation as Strategic Public Communication and Improv for Democracy: How to Bridge Differences and Develop the Communication and Leadership Skills Our World Needs. Sonia R. Jarvis (Author) Sonia R. Jarvis is Distinguished Lecturer of Public Affairs and the Director of the Baruch College Center on Equality, Pluralism and Policy at the Marxe School of Public and International Affairs at Baruch College, CUNY. Previously, she served as Executive Director of the National Coalition on Black Voter Participation, President of the Black Women's Agenda, and Senior Consultant to the President's Initiative on Race during the Clinton administration. Nicole A. Gordon (Author) Nicole A. Gordon is Distinguished Lecturer in Public Affairs and Faculty Director of the Executive MPA Program at the Marxe School of Public and International Affairs at Baruch College, CUNY. She has published in journals including Political Science Quarterly, Suffolk University Law Review (with the Hon. Sonia Sotomayor), Journal of Law and Policy, Albany Law Review, and the Fordham Urban Law Journal. Previously, she was the founding Executive Director of the NYC Campaign Finance Board.