Jews on the Frontier: Religion and Mobility in Nineteenth-Century America (North American Religions #1) (Paperback)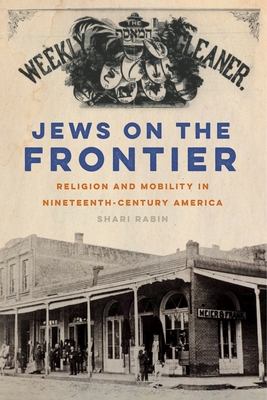 $32.40

Warehouse, In Stock | Usually Ships in 1-5 Days | New
Description
---
Winner, 2017 National Jewish Book Award in American Jewish Studies presented by the Jewish Book Council
Finalist, 2017 Sami Rohr Prize for Jewish Literature, presented by the Jewish Book Council
An engaging history of how Jews forged their own religious culture on the American frontier
Jews on the Frontier
offers a religious history that begins in an unexpected place: on the road. Shari Rabin recounts the journey of Jewish people as they left Eastern cities and ventured into the American West and South during the nineteenth century. It brings to life the successes and obstacles of these travels, from the unprecedented economic opportunities to the anonymity and loneliness that complicated the many legal obligations of traditional Jewish life. Without government-supported communities or reliable authorities, where could one procure kosher meat? Alone in the American wilderness, how could one find nine co-religionists for a minyan (prayer quorum)? Without identity documents, how could one really know that someone was Jewish? Rabin argues that Jewish mobility during this time was pivotal to the development of American Judaism. In the absence of key institutions like synagogues or charitable organizations which had played such a pivotal role in assimilating East Coast immigrants, ordinary Jews on the frontier created religious life from scratch, expanding and transforming Jewish thought and practice.
Jews on the Frontier
vividly recounts the story of a neglected era in American Jewish history, offering a new interpretation of American religions, rooted not in congregations or denominations, but in the politics and experiences of being on the move. This book shows that by focusing on everyday people, we gain a more complete view of how American religion has taken shape. This book follows a group of dynamic and diverse individuals as they searched for resources for stability, certainty, and identity in a nation where there was little to be found.
About the Author
---
Shari Rabin is Assistant Professor of Jewish Studies and Associate Director of the Pearlstine/Lipov Center for Southern Jewish Culture at the College of Charleston. She is a historian of American religions and modern Judaism, specializing in the nineteenth century.