The Anti-Injustice Squad: The Cacomistle Team (Paperback)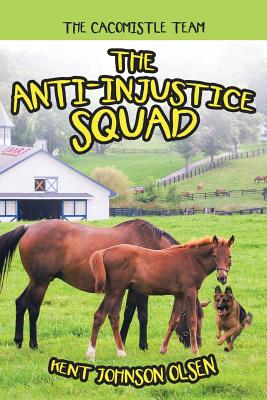 List Price: $8.99
Our Price: $7.64
(Save: $1.35 15%)
Warehouse, In Stock | Usually Ships in 1-5 Days | New
Description
---
EVERY PERSON BORN ON THIS EARTHHAS THE RIGHT TO WALK THROUGH LIFE, UNMOLESTED, UNAFRAID.SENSI J.R. JENSEN, 1981
Roommates, Riley and Lila searched mountain cliffs for a missing five-year old girl.
They see a man with a hang-glider on his back.
I dont want to go said the little girl.
The roommates rushed forward.
The little girl jumped on Riley, arms around her neck, and legs around a slim waist.
The man dipped his wing, knocked Lila down, and pushed Riley and the little girl off the 200-foot cliff, as he leaped into the air and flew away.
Today, young people face many challenges. They often feel helpless amid turmoil, including violence. It seems as though there is nothing they can do to change things. But what if that wasnt the case.
In his novel The Anti-Injustice Squad, author Kent Johnson Olsen tells the story of a group of young people making a difference. Gathered at a ranch, they work together to help others. The group is composed of admirable characters, including Riley. She does not let her physical scarring hinder her from taking risks and helping others. Although the situations confronted in The Anti-Injustice Squad probably will not be familiar to your life, the relationship between Riley and the other members of the squad shows how even young people can change things for others, including standing together against bullies. You, too, can make a difference.