Confessions of a High School Disaster (Chloe Snow's Diary) (Hardcover)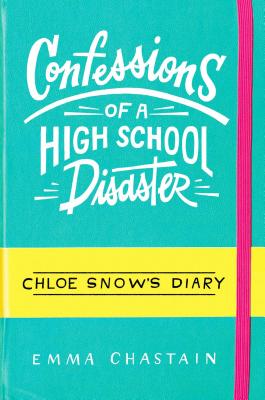 List Price: $18.99
Our Price: $18.04
(Save: $0.95 5%)
Description
---
In the tradition of Bridget Jones's Diary, a lovably flawed high school student chronicles her life as she navigates the highs and lows of family, friendship, school, and love in a diary that sparkles with humor and warmth.

I'm Chloe Snow, and my life is kiiiiind of a disaster.

1. I'm a kissing virgin (so so so embarrassing).
2. My best friend, Hannah, is driving me insane.
3. I think I'm in love with Mac Brody, senior football star, whose girlfriend is so beautiful she doesn't even need eyeliner.
4. My dad won't stop asking me if I'm okay.
5. Oh, and my mom moved to Mexico to work on her novel. But it's fine—she'll be back soon. She said so.

Mom says the only thing sadder than remembering is forgetting, so I'm going to write down everything that happens to me in this diary. That way, even when I'm ninety, I'll remember how awkward and horrible and exciting it is to be in high school.
About the Author
---
Emma Chastain is a graduate of Barnard College and the creative writing MFA program at Boston University. She lives in Brooklyn with her husband and children.
Praise For…
---
"Chloe Snow's Diary goes far beyond the expected awesomeness + angst of a freshman in high school, though it has both of those qualities in spades. But Chloe Snow, in all her hilarious brilliance, will also break your heart and make you bawl those "happy to be alive" tears. Amazing."


— Lauren Myracle, New York Times bestselling author of The Infinite Moment of Us

As if starting high school wasn't daunting enough, Chloe Snow has to do it without her free-spirited writer mother—who bolted to Mexico to find her "muse"—and alongside her religious best friend, Hannah, and Hannah's judgmental, picture-perfect family. Fortunately, Chloe has a caring dad; a new best friend, Tristan; and the lead in the school's musical! In the spirit of Meg Cabot's The Princess Diaries series, Chloe's daily diary serves as the book's format. Encompassing an overwhelming majority of Chloe's record is her obsession with Mac, a senior boy with a girlfriend and Chloe's secret hookup. Chloe, Hannah, and Tristan all have intense relationships with senior boys, which, aside from seeming a little improbable, starts to become how they define themselves. But despite Chloe's dominating obsession with Mac, and the book's abrupt ending, Chloe is refreshingly honest and unfiltered about very real issues facing high-school students: unsteady family dynamics, drinking at parties, balancing old and new friends, and the stigma of slut shaming. — Caitlin Kling
— Booklist

Chloe Snow wants nothing more than to be kissed by New Year's Eve. She is a typical high school freshman, ready to take on the challenges of leaving middle school behind, and her dad is predictably embarrassing. Her mom, however, is another story: she has recently left for Mexico in order to concentrate on herself and her writing. At the pool, right before school starts, Chloe catches the eye of the school bad boy—never mind that he already has a girlfriend. But when she gets cast in the leading role of the school's musical, instead of the most popular girl, the drama really begins. Writing in a diary format, Chastain captures a spot-on teen voice that would feel at home in an updated version of the film Mean Girls. Underlying the humor and angst of high school life, though, are Chloe's ache for her mother and her confusion and anger about her parents' relationship. Readers will hope for the heroine's continued adventures in future volumes. VERDICT An above-average purchase for readers who love comedic, realistic fiction about high school.–Deanna McDaniel, Genoa Middle School, OH

CHASTAIN, Emma. Confessions of a High School Disaster. 352p. ebook available. S. & S./Simon Pulse. Mar. 2017. Tr $17.99. ISBN 9781481488754.

Gr 9 Up–Chloe Snow wants nothing more than to be kissed by New Year's Eve. She is a typical high school freshman, ready to take on the challenges of leaving middle school behind, and her dad is predictably embarrassing. Her mom, however, is another story: she has recently left for Mexico in order to concentrate on herself and her writing. At the pool, right before school starts, Chloe catches the eye of the school bad boy—never mind that he already has a girlfriend. But when she gets cast in the leading role of the school's musical, instead of the most popular girl, the drama really begins. Writing in a diary format, Chastain captures a spot-on teen voice that would feel at home in an updated version of the film Mean Girls. Underlying the humor and angst of high school life, though, are Chloe's ache for her mother and her confusion and anger about her parents' relationship. Readers will hope for the heroine's continued adventures in future volumes. VERDICT An above-average purchase for readers who love comedic, realistic fiction about high school.
— School Library Journal