Official (Isc)2 Guide to the Hcispp Cbk (Isc2 Press) (Hardcover)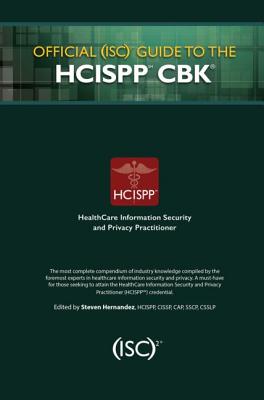 This item is backordered and not currently available. Please contact us for an estimated availability date.
Description
---
HealthCare Information Security and Privacy Practitioners (HCISPPSM) are the frontline defense for protecting patient information. These are the practitioners whose foundational knowledge and experience unite healthcare information security and privacy best practices and techniques under one credential to protect organizations and sensitive patient data against emerging threats and breaches.
The
Official (ISC)2(R) Guide to the HCISPP
SM
CBK(R)
is a comprehensive resource that provides an in-depth look at the six domains of the HCISPP Common Body of Knowledge (CBK). This guide covers the diversity of the healthcare industry, the types of technologies and information flows that require various levels of protection, and the exchange of healthcare information within the industry, including relevant regulatory, compliance, and legal requirements. Numerous illustrated examples and tables are included that illustrate key concepts, frameworks, and real-life scenarios. Endorsed by the (ISC) and compiled and reviewed by HCISPPs and (ISC) members, this book brings together a global and thorough perspective on healthcare information security and privacy. Utilize this book as your fundamental study tool in preparation for the HCISPP certification exam.
About the Author
---
Steven Hernandez MBA, HCISPP, CISSP, CSSLP, SSCP, CAP, CISA, is a Chief Information Security Officer practicing in the U.S. Federal Government in Washington DC. Hernandez has over seventeen years of information assurance experience in a variety of fields including international healthcare, international heavy manufacturing, large finance organizations, educational institutions, and government agencies. Steven is an Honorary Professor at California State University San Bernardino and affiliate faculty at the National Information Assurance Training and Education Center located at Idaho State University. Through his academic outreach, he has lectured over the past decade on numerous information assurance topics including risk management, information security investment, and the implications of privacy decisions to graduate and postgraduate audiences. In addition to his credentials from (ISC)2, Hernandez also holds six U.S. Committee for National Security Systems certifications ranging from systems security to organizational risk management. Steven also volunteers service to (ISC)2's Government Advisory Board and Executive Writers Bureau. Steven enjoys relaxing and traveling with his wife, whose patience and support have been indispensable in his numerous information assurance pursuits.