Carrying Water to the Field: New and Selected Poems (Ted Kooser Contemporary Poetry) (Paperback)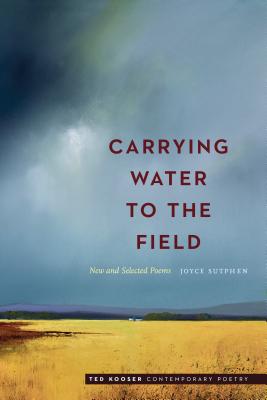 List Price: $19.95
Our Price: $16.96
(Save: $2.99 15%)
Warehouse, In Stock | Usually Ships in 1-5 Days | New
Description
---
Joyce Sutphen's evocations of life on a small farm, coming of age in the late 1960s, and traveling and searching for balance in a very modern world are both deeply personal and familiar. Readers from Maine to Minnesota and beyond will recognize themselves, their parents, aunts and uncles, and neighbors in these poems, which move us from delight in keen description toward something like wisdom or solace in the things of this world.

In addition to poems selected from the last twenty-five years, Carrying Water to the Field includes more than forty new poems on the themes of luck, hard work, and the ravages of time—erasures that Sutphen attempts to ameliorate with her careful attention to language and lyrical precision. 

 
About the Author
---
Joyce Sutphen grew up on a farm in Stearns County, Minnesota. She is a professor emeritus of English at Gustavus Adolphus College and is Minnesota's poet laureate. She is the author of seven poetry collections, including Straight Out of View, Coming Back to the Body, and Naming the Stars, and is a coeditor of To Sing Along the Way: Minnesota Women Poets from Pre-Territorial Days to the Present. 
 
Praise For…
---
"Precise in the language of everyday, rich in wisdom and maturity, Joyce Sutphen's newest collection, her eighth, speaks to her comfort with farm life, travel, aging, the distortions of memory."—Matt Sutherland, Foreword Reviews

"Representing nearly a quarter-century of published work, Carrying Water to the Field attests to Joyce Sutphen's accomplishment as a lyric poet dedicated to clarity and concision. . . . The reader can dip in, selecting one perfectly crafted poem at a time and relish the weight and feel of each in their palm."—Elizabeth Hoover, (Minneapolis) Star Tribune

"Perhaps you are interested in a poet's journey, or the story of a family, the value of meaningful work, the beauty of things well-crafted, or the muscle and music of words. Perhaps the Heartland as a place intrigues you, or maybe you are fascinated by the places the heart will take us. If any of these things matters to you, then no matter how you choose to read Carrying Water to the Fields, you're likely to find rewards."—Tracy Rittmueller, Lyricality

"How rare to see lyric tenderness sustained over years with no stumble into sentimentality. This remarkable collection wields a keen blade of attention, a nonchalant elegance. The reigning landscape is the Minnesota family farm of Joyce Sutphen's girlhood, a world lost not only to her but to America. The mind at work here is not nostalgic, but piercing, acute. The city of her adulthood, her travels (especially to Ireland), and the tally of enduring and broken relationships form a faithful history of our raucous times. Chekhov comes inevitably to mind, with his remorseless stories set in the dustscapes of the Russian provinces. No regionalist, he. Joyce Sutphen is our Chekhov, only in poems."—Patricia Hampl, author of The Art of the Wasted Day

"The writing in Carrying Water to the Field is faultless: the language is limpid and accurate, the choreography is unerring, the forms are balanced and satisfying. And even more satisfying is the fact that this brilliant technique justifies and is justified by the truth value of these poems, which usher us into the reality of time, change, loss, and memory's belated and beautiful insights."—Vijay Seshadri, Pulitzer Prize–winning author of Three Sections: Poems

"It is poetry that Joyce Sutphen finds in owls, marshes, tractors, harrows and mason jars: just as (amid the urgent matter of contemporary existence, literary life, love, and human frailty) she shows us the very heart and soul of her working, rooted prairie people, as shy of being caught in a poem as they once were reluctant to be photographed, but perfectly captured for us in this sweeping account of life that is both specific and universal. A stunning collection of poems."—Anne-Marie Fyfe, author of The House of Small Absences