The Definitive Guide to Emergency Department Operational Improvement: Employing Lean Principles with Current ED Best Practices to Create the No Wait D (Paperback)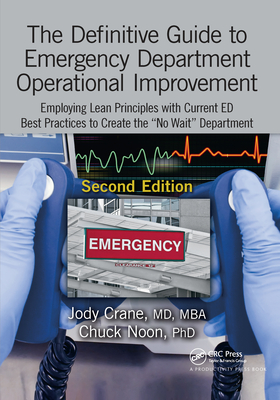 This item is backordered and not currently available. Please contact us for an estimated availability date.
Description
---
This revised and updated book explores the academics behind managing the complex service environment that is the Emergency Department (ED) by combining applied management science and practical experiences to create a model of how to improve operations. This book offers a presentation of Lean tools used in the ED along with basic and advanced flow principles. It then shows how these concepts are applied and why they work, supported by case studies in which Lean principles were used to transform an underperforming ED into a world-class operation. After reviewing best practices, the authors explain how to achieve excellence by discussing the elements of creating a culture of change.
About the Author
---
Jody Crane, MD, MBA is an emergency physician practicing at Mary Washington Hospital in Fredericksburg, VA. He divides his time between clinical Emergency Department practice and serving as the business director of his group, Fredericksburg Emergency Medical Alliance. In 2004, he graduated from the Physician Executive MBA Program (PEMBA) at the University of Tennessee where he is currently an Adjunct Professor teaching physician-led lean healthcare operations improvement. His work focuses on innovative approaches to Emergency Department and hospital-wide operational and lean patient flow improvement, specifically addressing the application of lean manufacturing concepts within the healthcare environment. He currently teaches Lean Healthcare courses for the University of Tennessee Center for Executive Education. He is also a faculty member of the Institute for Healthcare Improvement's Collaborative, "Operational Improvement in the Emergency Department." Chuck Noon, PhD is a professor in the Department of Statistics, Operations, and Management Science at the University of Tennessee. he is a founding member of the highly-ranked Physician Executive MBA program and continues to teach in the program. Dr. Noon also teaches in the full-time MBA program, the PhD program, and in a number of executive education programs. His teaching interests include operational improvement, business modeling, simulation, and decision analysis and support. He holds a PhD in industrial and operations engineering from the University of Michigan. His published research concerns computer-based modeling and process improvement. He is the recipient of numerous teaching awards and serves as a teaching mentor for junior faculty. To stay current, he periodically consults with healthcare systems on process improvement, capacity planning, and staff scheduling.