The Mind Illuminated: A Complete Meditation Guide Integrating Buddhist Wisdom and Brain Science for Greater Mindfulness (Paperback)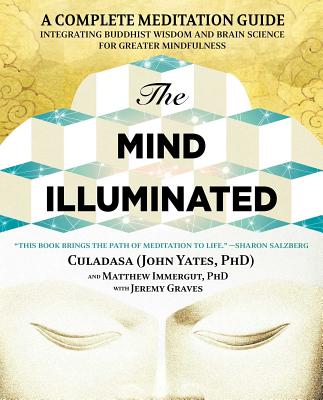 List Price: $27.00
Our Price: $22.95
(Save: $4.05 15%)
Warehouse, In Stock | Usually Ships in 1-5 Days | New
Description
---
A revolutionary, science-based approach to meditation from a neuroscientist turned meditation master, The Mind Illuminated is an accessible, step-by-step toolkit for anyone looking to start—or improve—their daily meditation practice.

The book that bestselling meditation teacher Sharon Salzberg raves "brings the path of meditation to life," The Mind Illuminated is the first how-to meditation guide from a neuroscientist who is also an acclaimed meditation master. This innovative book offers a 10-stage program that is both deeply grounded in ancient spiritual teachings about mindfulness and holistic health, and also draws from the latest brain science to provide a roadmap for anyone interested in achieving the benefits of mindfulness. Dr. John Yates offers a new and fascinating model of how the mind works, including steps to overcome mind wandering and dullness, extending your attention span while meditating, and subduing subtle distractions.

This groundbreaking manual provides illustrations and charts to help you work through each stage of the process, offering tools that work across all types of meditation practices. The Mind Illuminated is an essential read, whether you are a beginner wanting to establish your practice or a seasoned veteran ready to master the deepest state of peace and mindfulness.
About the Author
---
John Yates, PhD (Culadasa) was a meditation master for more than four decades in the Tibetan and Theravadin Buddhist traditions. A former professor, he taught physiology and neuroscience for many years, and later worked in the field of complementary and alternative medicine. He was the author of A Physician's Guide to Therapeutic Massage, currently in its third edition. He passed away in 2021.

Matthew Immergut, PhD is an associate professor of sociology. He is a longtime meditator and a dedicated student of Culadasa. He lives in Woodstock, NY.
Praise For…
---
"A systematic, hands-on manual, The Mind Illuminated will be a great help to anyone who wants to completely fathom the process of meditative development in all its stages. Culadasa gives us the full conceptual framework together with complete instructions for putting it into play. In largely Western language,with help from wonderful images and diagrams, this book brings the path of meditation to life."
— Sharon Salzberg, author, Real Happiness

"[Culadasa] takes me through the science of the practice straight to the adventure of sitting, and offers context through sustainable, practical applications and tools. This book is full of wisdom, story, and creativity, and I'll be glad to have it as a reference for many years to come."
— Elena Brower, author, Art of Attention

"This book is a rare and valuable treasure, providing a detailed, step-by-step account of how meditation practice progresses. Culadasa is the real deal, a living adept with decades of experience."
— Shinzen Young, author, Beginner's Guide to Meditation

"Essential reading for anyone interested in meditative development from any tradition. At once comprehensive and also very easy to read and follow in practice, this is the most thorough, straightforward, clear, and practical guide to training the mind that I have ever found. A remarkable achievement."
— Daniel Ingram, M.D., author, Mastering the Core Teachings of the Buddha

"In a time where meditation and its twin sister, mindfulness, have become the fads du jour, Culadasa gives us the real deal in this encyclopedic handbook. If you're serious about meditation, The Mind Illuminated should be on your bookshelf."
— Lama Marut, author, A Spiritual Renegade's Guide to the Good Life

"With wisdom, clarity and grace, Culadasa has written an invaluable manual for awakening. I believe this book will become one of the "Top 10 Must Reads" for anyone on the spiritual path for years to come. Helpful for beginning meditators, and valuable for advanced meditators who are already committed to meditation but have not yet experienced the fruits of consistent practice."
— Stephanie Nash, mindfulness coach and integrative counselor

"This book does an outstanding job of both constructing a cognitive theory of how the mind works and presenting a detailed handbook for learning and mastering meditation. The result is a beautiful integration of theory and practice, whose parallel strands lead to experientially, and account for conceptually, the radical shift in consciousness we call awakening."
— Richard P. Boyle, author, Realizing Awakened Consciousness