SOG: The Secret Wars of America's Commandos in Vietnam (Paperback)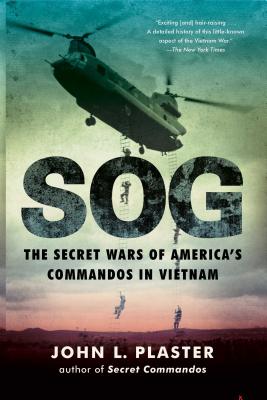 List Price: $18.99
Our Price: $16.14
(Save: $2.85 15%)
Warehouse, In Stock | Usually Ships in 1-5 Days | New
Description
---
John Plaster's riveting account of his covert activities as a member of a special operations team during the Vietnam War is "a true insider's account, this eye-opening report will leave readers feeling as if they've been given a hot scoop on a highly classified project" (Publishers Weekly).

Code-named the Studies and Observations Group, SOG was the most secret elite US military unit to serve in the Vietnam War—so secret its very existence was denied by the government. Composed entirely of volunteers from such ace fighting units as the Army Green Berets, Air Force Air Commandos, and Navy SEALs, SOG took on the most dangerous covert assignments, in the deadliest and most forbidding theaters of operation.

In SOG, Major John L. Plaster, a three-tour SOG veteran, shares the gripping exploits of these true American warriors in a minute-by-minute, heartbeat-by-heartbeat account of the group's stunning operations behind enemy lines—penetrating heavily defended North Vietnamese military facilities, holding off mass enemy attacks, launching daring missions to rescue downed US pilots. Some of the most extraordinary true stories of honor and heroism in the history of the US military, from sabotage to espionage to hand-to-hand combat, Plaster's account is "a detailed history of this little-known aspect of the Vietnam War…a worthy act of historical rescue from an unjustified, willed oblivion" (The New York Times).
About the Author
---
Major John L. Plaster was a retired US Army Special Forces soldier, regarded as one of the leading sniper experts in the world. A decorated Vietnam War veteran who served in the covert Studies and Observations Group (SOG), Plaster cofounded a renowned sniper school that trains military and law enforcement personnel in highly specialized sniper tactics. He is the author of SOG; The Ultimate Sniper: An Advanced Training Manual for Military and Police Snipers; The History of Sniping and Sharpshooting; and Secret Commandos: Behind Enemy Lines with the Elite Warriors of SOG, a memoir of his three years of service with SOG.