Everything Volume 1 (Paperback)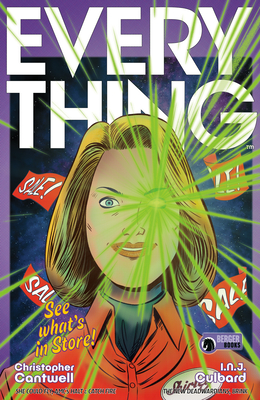 List Price: $19.99
Our Price: $18.99
(Save: $1.00 5%)
Description
---
EVERYTHING is a gleaming new mega-department store that has everything you want... but it might take away what you need... things like your sanity, or maybe even your life.

From wayward teens to lonely housewives and ambitious city officials, most in this otherwise-sleepy Michigan town are thrilled with the arrival of EVERYTHING and its catalog-perfect manager, Shirley.

But thrill turns to frenzy, and when bouts of mania, random hellish fires, violent explosions and unshakeable psychic disturbances start to overtake the population, a few--like depressive out-of-towner Lori and a suspicious local named Rick--begin to suspect EVERYTHING might be the cause.

What twisted power has taken hold of Holland, Michigan and its town-folk? Who--or what--exactly is in charge here...and what insidious plans are in store?

From Christopher Cantwell, acclaimed writer of She Could Fly, and celebrated artist I.N.J Culbard (Brink, Brass Sun) comes EVERYTHING: a truly bizarre story about the most horrifying pursuit of happiness you've ever read.

Collects EVERYTHING #1-#5.
About the Author
---
Cantwell was born in Chicago, Illinois. In the 1980s, the family moved to Dallas, Texas. Cantwell went to University of Southern California and enrolled in its screenwriting program as an undergraduate. He began writing with Chris Rogers in August of 2010, and they created Halt and Catch Fire together. He is one of the two creators of the TV series Halt and Catch Fire. Cantwell is directing the upcoming film The Parts You Lose.