The Joy of Keeping Goats: The Ultimate Guide to Dairy and Meat Goats (Paperback)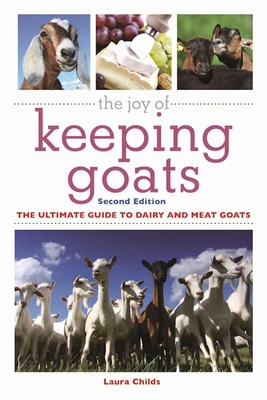 List Price: $14.99
Our Price: $14.24
(Save: $0.75 5%)
Description
---
What's not to love about goats? They will feed you, clean up the overgrown mess in the fields, and take long hikes with you while carrying your supplies. They will make you laugh when you're sad, provide extra income for even the smallest farm, carry you to town and back in a little cart, and perhaps best of all, they will gaze upon your face with earnest adoration.

If you have dreams of becoming a goat farmer, The Joy of Keeping Goats can help you turn that dream into a reality. In this comprehensive manual you'll learn about the different goat breeds, as well as everything from goat housing systems to feeding, health, and breeding.

For those who are excited about the prospect of keeping goats for their deliciously sweet milk and low-fat, nutritious meat, author Laura Childs will walk you through the milking process, and then offer suggestions for what to do with all that milk (Goat milk feta cheese anyone?), and provides a recipe for curried goat, a traditional Caribbean dish.

As you embark on this adventure, you'll discover the joy in keeping them, learning about their care, and getting to know each goat's individual personality.
About the Author
---
Laura Childs, a self-professed city girl of thirty years, cashed out her savings and moved to the country with her newborn daughter. With the purchase of a neglected homestead, a few goats that no one else wanted, and a dozen hens, mother and daughter began their adventures of living off the land. After twenty years of farm life, Childs has moved closer to town with plans to return to her farming ways in retirement. The author lives in Ontario, Canada.