Family Homesteading: The Ultimate Guide to Self-Sufficiency for the Whole Family (Paperback)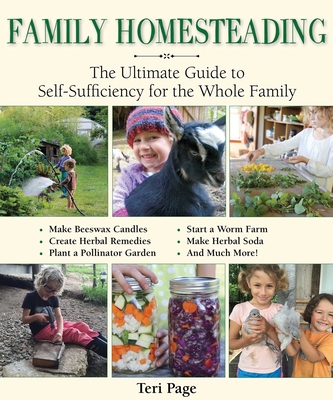 List Price: $16.99
Our Price: $14.44
(Save: $2.55 15%)
Description
---
Whether you and your family are planning to take the big plunge and live off the grid, or you just want to make the best use of your backyard, here is practical advice and hands-on projects for the self-sufficient family that wants to go back to basics.
In an increasingly digital world, families are looking for ways to deepen their connection to one another and to the land.
Family Homesteading
is a guide to a simpler life, one that integrates children into the daily work of creating a sustainable homestead. From gardening and cooking, to herbalism and natural crafts,
Family Homesteading
shares stories and hands-on projects that will deepen relationships and build self-sufficiency skills.
Teri Page, author of the popular Homestead Honey blog, moved with her husband across country with young children to build their off-the-grid homestead on raw land. Together, they garden, forage, preserve foods, raise chickens, homeschool, and so much more. Perfect for homeschooling families or anyone working with or raising kids, readers will learn how to involve children in dozens of homesteading projects. Learn how to:
Forage for wild foods
Stock an herbal medicine cabinet
Craft beeswax candles
Make yogurt
Grow veggies from table scraps
Raise chickens
Tie basic knots
And so much more!
About the Author
---
Teri Page is the blogger behind Homestead Honey and manages a homestead in Missouri with her husband and kids. They are currently creating and cultivating organic gardens and planting food forests while they build an off-grid, 350 square foot tiny home. She and her husband have raised chickens, ducks, goats, bees, and pigs, have lived without electricity or running water, and currently homeschool their kids. Teri and her family live in La Plata, Missouri.
Praise For…
---
"Family Homesteading is an insightful and personal journey on homesteading with children. Teri thoughtfully reminds us to enjoy the process and not to be so focused on the end product. This is a must-read for anyone considering homesteading with children." —Connie Meyer, UrbanOveralls.net

"Having raised a large family in the homesteading tradition, I appreciate everything author Teri Page has to say in her book Family Homesteading. In an age where we are growing increasingly removed from the cycles of nature, this book serves as a great reminder of nature's bounty and offers excellent suggestions for enjoying the homesteading lifestyle with the whole family." —Devon Young, author, herbalist, and blogger at NittyGrittyLife.com

"In this comprehensive guide to homesteading with children, Teri Page covers all the bases with topics like cooking, gardening, foraging, fermenting, and even herbal wellness. She gives us knowledgeable and practical guidance in this well thought out resource, including recipes, tips, and advice from other experienced homesteaders. This is a book that I will be recommending to all of my friends who have families of their own, whether they are already homesteading or simply homestead dreaming!" —Colleen Codekas, author of Healing Herbal Infusions

"In her book, Family Homesteading, Teri Page shares valuable details of her own family's homesteading efforts, highlighting the many aspects of a rustic lifestyle that children, especially, love to embrace. The profiles of other families embracing the homestead life are inspiring as well, but this book is much bigger than a 'how to homestead with kids' guide. Delving into the instructions and recipes included in this book is a great starting point for getting back to traditional living—with the whole family. Most importantly, though, the book gives readers a sense of the satisfaction that comes from a life grounded in natural rhythms." —Kris Bordessa, creator of Attainable-Sustainable.net

"I'm not sure I can express clearly how valuable I think Family Homesteading is going to be for families everywhere! Family Homesteading has filled a void in homesteading literature, namely an explanation of how do we do all this homestead-y stuff with families?! Teri moves throughout the year seasonally, offering instruction, projects, and plans for the whole family to work through as we build our homesteads. From homeschooling to gardening to livestock, every question we've had about how to best grow our family and our homestead at the same time will be answered. The homesteading journey is one we must take as a family and Family Homesteading will help us do just that. " —Tessa Zundel, HomesteadLady.com

"Family Homesteading is a beautiful and inspiring read that celebrates the joy of working and playing together as a modern homestead family. Heartwarming photos are generously interspersed throughout, along with practical recipes and useful projects for enterprising homestead kids to enjoy." —Jan Berry, author of 101 Easy Homemade Products for Your Skin, Health & Home

"What a fresh and much-needed book! I'm so glad Teri is sharing her wisdom about homesteading with children and as a family. New moms often ask me, 'How am I supposed to get anything done?' You'll find everything you need to know in the pages of this book. —Amy Stross, author of The Suburban Micro-Farm and owner of TenthAcreFarm.com

"My children are grown now, but Teri's advice about self-reliant living is solid no matter how old you are. I enjoyed the diverse recipes and the Homestead Family Profiles. I think I need to go find some neighborhood children to teach!" —Shelle Wells, author of Prepper's Dehydrator Handbook, and creator of RockinWHomestead.com

"Through step-by-step instructions, fun activities, and a peace of mind, Family Homesteading brings the entire family together and helps teach our future mini-homesteaders (of any age) amazing skills alongside of their parents. A great handbook for every homesteading family that wants to learn and grow together!" —Amy K. Fewell, Founder of Homesteaders of America, author of The Homesteader's Herbal Companion

"I loved reading how the Page/Thomas family is raising their family while homesteading. The accounts of life and the skills taught can be incorporated into any lifestyle, not just off the grid living. I only wish this book had been published when my children were young!" —Janet Garman, author of 50 Do-It-Yourself Projects for Keeping Chickens and creator of TimberCreekFarmer.com

"I love how Teri engages the whole family into the homesteading rhythm. Her book is about creating not only skills, but wonderful memories." —Isis Loran, FamilyFoodGarden.com