Small Space Living: Expert Tips and Techniques on Using Closets, Corners, and Every Other Space in Your Home (Paperback)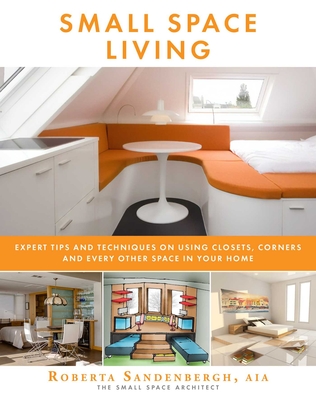 List Price: $19.99
Our Price: $16.99
(Save: $3.00 15%)
Description
---
Complete with demonstrative illustrations and photographs, Small Space Living offers more than 100 space-saving ideas from Roberta Sandenbergh, a.k.a the Small Space Architect.
Sandenbergh will introduce you to the idea of space opportunities—untapped areas in every home that can be expanded for storage and organizational purposes. A space opportunity might be as simple as using an empty space under a stairway or above a doorway or as complicated as dividing your entire apartment for rental income.
Each chapter addresses a different kind of space opportunity area, including closets, corners, walls, windows, ceilings, and floors. In these areas, you will be inspired by Sandenbergh's creative approaches to divided spaces, stacked spaces, empty spaces, mirrored spaces, and multipurpose furniture. Projects include:

BATHROOM IN A CLOSET: It could save your marriage.


OFFICE IN A CLOSET: Run an empire from your chair.


DINING IN A CORNER: Make every meal cozy.


BOOKCASE PARTITION: Gain a double function.


SHOJI PARTITION: Create elegant privacy.


BED OVER STORAGE: Use for kids, teens, and adults.


SPIRAL STAIR POLE: Better than a ladder—more than a pole.


CHAIRS ON THE WALL: Do what the Shakers do.


SETTEE IN A WINDOW: Add space and glamor to a small room.


DRESSING TABLE IN A WINDOW: Do your makeup with natural light.


WALK-IN CLOSET UNDER STAIRWAY: Get rid of your "catch-all."


SOFA INTO TABLE AND SEATS: Pop up a table for six.


CABINET INTO TABLE: Pull out when guests arrive.


INSTANT EAT-IN KITCHEN: Pull out a table and stools.

Learn from the author's stories of her own designs for "small-by-choice" homes—for herself and for her clients—in which she tried to make the best possible use of varied living spaces. Allow Sandenbergh to help you create more space-efficient and attractive areas in your home whether you live in a studio apartment, a tiny home, or a larger home that needs more of a cozy feel.
About the Author
---
Roberta Sandenbergh is an American architect who was born in Brooklyn but spent most of her professional life in South Africa. She specialized in residential design: one of her projects, a small-space retirement home, won the annual Johannesburg Civic Design Award; two of her houses were featured in Garden & Home and Habitat. Sandenbergh has written many illustrated columns on space-saving ideas that have appeared in SA City Life and Home Handyman magazines as well as the Johannesburg Star, Washington Post, and San Francisco Chronicle newspapers. She resides in New York, New York.
Praise For…
---
"The book is brilliant. So user-friendly, and the ideas are accessible to anyone with small spaces. Everything makes so much sense. It's perfect for a first-time home owner as well as the experienced architect or designer. The best book on small spaces that I have ever seen!" —Sharon Sager, Sager and Associates Interior Designers

"Very impressive! Thorough, nicely illustrated, and especially timely in this era of expensive real estate. A how-to manual, personal history, and idea book for urban survival!" —Richard Dattner, Dattner Architects