How to Raise Chickens for Meat: The Backyard Guide to Caring for, Feeding, and Butchering Your Birds (Paperback)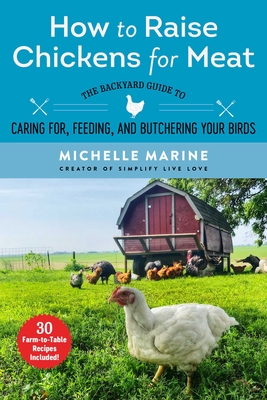 List Price: $16.99
Our Price: $14.44
(Save: $2.55 15%)
Description
---
If self-sufficiency and raising your own food is important to you, this book will help you pull together a complete farm-to-table experience.

Gone are the days when grandma headed to the chicken coop in search of dinner. In this day and age, when fewer and fewer people know where their food comes from, How to Raise Chickens for Meat helps families take control of their food supply once again.

Divided into four easy-to-navigate sections,How to Raise Chickens for Meat is packed with practical information. The first section, Getting Started, includes information on breed specifics, timing, and quantity. This section will help you analyze options and make informed decisions as you get started.

The second section, Care & Feeding, dives into the specifics of keeping your flock healthy. Learn how to set up a brooder, what to feed your chickens, how to safely pasture them, and how to keep your flock stress-free.

The third section, Butchering, prepares you for one of the more challenging parts of raising chickens for meat.  It addresses some of the emotions you may feel along with the actual process of butchering and provides practical tips to make it easier. It also discusses alternative options if you don't want to process your own chickens.

The book concludes with cooking tips and delicious tried and true farm-to-table recipes to impress even the most doubtful family member!
 
How to Raise Chickens for Meat is the resource your homestead library has been missing.
 
About the Author
---
Michelle Marine is the owner and editor of the popular green lifestyle blog Simplify Live Love. A former college-teacher-turned-homesteader and freelance writer, Michelle's passion for homesteading came from her paternal grandma, who grew her own food, raised her own chickens, and home-birthed six children long before it was the cool thing to do. Michelle has been raising healthy, home-grown food for her family for more than ten years. She lives with her husband, four kids, and a menagerie of Instagram-famous animals on a five-acre homestead in eastern Iowa (find them on Instagram @SimplifyLiveLove).
 
Praise For…
---
"Michelle takes you by the hand and walks you through the process of raising and processing your own meat chickens in a way that makes you feel like she's right there with you. Her attitude is 'Anyone can do this! Let me show you how!' This book will be a trusted resource that you will refer to again and again during your meat-bird journey!" —Carissa Bonham, author of Proven Techniques for Keeping Healthy Chickens

"Starting with choosing breeds and ending with butchering day, this well thought-out guide to raising chickens for meat is the perfect place to start. When you plan to invest both time and money raising healthy meat for your family, be sure you can get the most from your investment. Michelle Marine candidly talks about her first attempt at raising broilers so you can avoid mistakes such as not having appropriate housing, equipment, or a plan for butchering day. Learn about the difference in heritage breeds and commercial meat breeds, pasture raised or poultry fed, and how to raise the healthiest meat birds by boosting their immunity. And the big question: can you save money raising your own meat chickens? The recipe section will entice you with ideas for cooking the best chicken dishes. Save yourself from regrets and read this book before calling the hatchery with your meat chicken order." —Janet Garman, author of 50 DIY Projects for Keeping Chickens