Epstein: Dead Men Tell No Tales (Front Page Detectives) (Hardcover)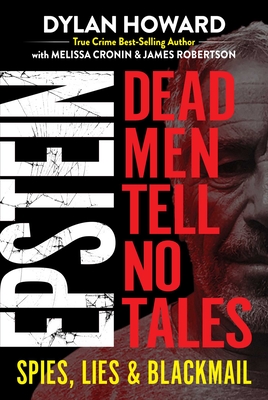 List Price: $24.99
Our Price: $23.74
(Save: $1.25 5%)
Description
---
This is—for the first time—the full and unedited story behind the sick life and mysterious death of Jeffrey Epstein that is being called one of the most significant scandals in American history
He was the billionaire financier and close confidant of presidents, prime ministers, movie stars and British royalty, the mysterious self-made man who rose from blue-collar Brooklyn to the heights of luxury. But while he was flying around the world on his private jet and hosting lavish parties at his private island in the Caribbean, he also was secretly masterminding an international child sex ring—one that may have involved the richest and most influential men in the world.
The conspiracy of corruption was an open secret for decades. And then this summer, it all came crashing down.  
After his arrest on sex trafficking charges in July, it seemed Epstein's darkest secrets would finally see the light. But hopes for true justice were shattered on August 10 this year, when he was found dead in his cell at the Metropolitan Correctional Center, New York.  
The verdict: suicide. The timing: convenient, to say the least.    
Now,
Epstein: Dead Men Tell No Tales
delivers bombshell new revelations, uncovers how the man President Trump once described as a "terrific guy" abused hundreds of underage girls at his mansions in Palm Beach and Manhattan… all while entertaining the world's most powerful men—including President Clinton, Prince Andrew, and Donald Trump himself.
How much did they know about his perversions? And did they take part?
How might they have helped him to continue his abuse, and to escape justice for it?
What responsibility might they have for his sudden, shocking death?
And is there a shocking spy and blackmail story at the heart of the scandal?
The answers to these questions and more will be explored in
Epstein: Dead Men Tell No Tales
with groundbreaking new reporting, never-before-seen court files, and interviews with new witnesses and confidants.  
Combining the very best investigative reporting from investigative journalists Dylan Howard, Melissa Cronin and James Robertson—who have been covering the case for close to a decade—will send shockwaves through the highest levels of the establishment.  
About the Author
---
As a man with unprecedented access to the facts and a reporter who is one of the most feared journalists in Hollywood, investigative reporter Dylan Howard has cracked open scandals that have brought down the careers of Mel Gibson, Charlie Sheen, Hulk Hogan, and Paula Dean and others. Howard's sense for news saw him rise to become the undisputed most powerful gossip editor in the world—publishing dozens of salacious tabloid magazines each week, including Us Weekly, The National Enquirer, Star, In Touch, Life & Style, RadarOnline.com, and more.

Described by The New Yorker magazine's Jeffrey Toobin as "a tabloid prodigy" and AdWeek as "the king of Hollywood scoops," Dylan also brought to light the hate-fueled audiotapes of Oscar-winning actor/director Gibson blasting former girlfriend Oksana Grigorieva; the scandal-plagued death of screen darling Farrah Fawcett; the naming of the mother of Arnold Schwarzenegger's love child; the demise of star-on-the-rise politician Anthony Weiner; and the Tiger Woods sex scandal. He also broke the story of the A-list high-stakes poker scam that was later made into the Oscar-nominated film Molly's Game.

Most recently, Howard made a name for himself with a stunning exposé of Sheen that revealed Hollywood's most unapologetic hedonist was HIV positive. It also was a story of extraordinary corruption, violence, lies, intimidation, death threats, and millions of dollars paid out in hush money—a story that he chronicled in a first-person essay for The Hollywood Reporter that AdWeek called "jaw dropping."
 
He also develops and executive produces premium unscripted television shows and podcasts, including last year's blockbuster podcast series "Fatal Voyage: The Mysterious Death of Natalie Wood" that garnered over 10 million downloads and 50 million media impressions worldwide. The series was named to Apple Podcasts' Most Downloaded New Shows of 2018 and was named a 2019 Webby Best Series honoree by the International Academy of Digital Arts and Sciences.

In 2011, Howard was named Entertainment Journalist of the Year at the National Entertainment Journalism Awards, where the judges labelled him the "go-to guy for authoritative showbiz news and analysis on cable and over-the-air television." Howard is the author of Diana: Case Solved and lives in New York City.

Melissa Cronin is an investigative journalist whose ingenious reporting and dynamic writing have been behind some of the world's biggest and most scandalous stories. After graduating with honors from Harvard, Cronin became a leader of the tabloid world, making her mark at Star magazine, In Touch, The Daily, Page Six, RadarOnline, and OK! magazine. She uncovered memorable scandals involving Tom Cruise, Charlie Sheen, the Kardashians, and more.
 
She also is renowned for her ability to successfully lead reporting teams on breaking news and enterprise stories. Named one of FOLIO's Top Women in Media for 2018, Cronin is "A Director-Level Doer" who "almost forensically tracks PR metrics," New York magazine raved. Cronin has served as producer on several record-breaking television, podcast, and digital media projects. She lives in Palm Springs.
 
James Robertson broke the story of Jeffrey Epstein's first prison suicide attempt—and has continued to set the news agenda with his jaw-dropping world exclusives. A winner of MHP30 To Watch: Young Journalist Awards in 2014 while senior showbiz reporter at The Daily Mirror in London, he relocated to Los Angeles the same year. In his first 24 months in America, the Welsh-born Robertson traveled to more than 30 states—covering terrorism, high school shootings, celebrity scandals and political bombshells for print and digital publications globally. 
 
His fearless and forensic investigative-style journalism made him renowned for being the trailblazer who gets the story others can't. From exposing Scientology's ruthless practices to uncovering pay-offs in Hollywood and scooping an affair that sparked the most expensive divorce in history, Robertson was also praised by pundits for his "extraordinary" interview with Gloria Chapman, the loyal wife of John Lennon's killer Mark Chapman, breaking her silence for the only time since 1980. In 2017, he became the youngest Editor-In-Chief in tabloid media at the helm of OK! magazine at only age 27, a position he still holds while overseeing reporting as Head of News for Us Weekly, The National Enquirer, RadarOnline, InTouch, Star, and Life & Style. 
Praise For…
---
Epstein reflects the hard work and research Dylan Howard, Melissa Cronin, and James Robertson have put to tell this horrible story. It is well-researched and beautifully written. It should be required reading for young journalists who aspire to become investigative journalists. Epstein is the true story of crime in high places, but it is as gripping and thrilling as a good novel can be. It is a perfect match for those who love to read true crime.
—Washington Book Review

"Dylan Howard is the rare combination of cutting-edge journalist, true crime commentator, and relentless investigator. Howard passionately brings comprehensive and groundbreaking analysis to the most compelling mysteries of our time."
—Dr. Phil McGraw, host of TV's #1 daytime talk show, Dr. Phil
 
"The king of Hollywood scoops."
—AdWeek 

"The go-to guy for authoritative showbiz news and analysis on cable and over-the air television."
—Los Angeles Press Club 

"Dylan Howard is one of the finest journalists writing today. His depth and breadth of experience are second to none; he follows every intricate angle of a story and exposes the truth. As a former detective, I know firsthand the skills that make an exceptional investigator and Dylan has them in spades."
—Bo Dietl, former NYPD homicide detective who made over made over 1,400 felony arrests