Log Cabin Years: How One Couple Built a Home From Scratch and Created a Life (Hardcover)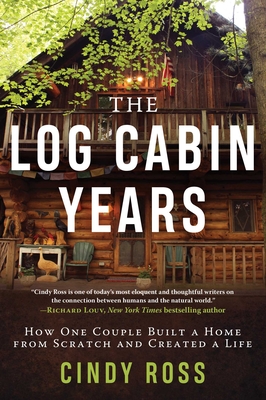 List Price: $24.99
Our Price: $21.24
(Save: $3.75 15%)
Description
---
"Cindy Ross is one of today's most eloquent and thoughtful writers on the connection between humans and the natural world."—Richard Louv, New York Times bestselling author

The Log Cabin Years is the inspiring story of how award-winning author Cindy Ross and her husband, artist Todd Gladfelter—a young couple totally inexperienced in construction—built a log home using raw trees and without the use of power, how they recycled and used salvage to supplement their materials, and how the home went on to become a living, breathing part of their lives together.

With a perfect mix of memoir and practical information, The Log Cabin Years explores the ways the couple not only developed their building skills but defined the values and virtues by which they would continue to live—self-confidence, freedom, and independence. As the cabin walls grew, so, too, did Cindy and Todd—as individuals and as partners. Building a home forced the couple to learn to argue constructively, communicate openly, and work within the parameters of each person's unique personality. The Log Cabin Years is a great example of how two people can learn to work together through difficult times, both mental and physical.

For their efforts, they were able to build, and then live in, a beautiful home—debt free.

From hosting Appalachian Trail hikers to offering a sanctuary for recovering veterans, from providing a place to homeschool and teach their children to launching Todd's very successful career as a chainsaw carving artist, the cabin has given back, fostering creativity, learning, and healing.

Building your own home has long been an American dream. The desire and need to live more sustainably has seeped into all aspects of our lives. The Log Cabin Years will speak to all people who wish to live a more sustainable life, empower themselves, build relationships, learn skills, and perhaps create a hand-built home of their own.
About the Author
---
Cindy Ross has written about adventure, sustainable living, and raising children alternatively via outdoor adventures and travel for a variety of publications, including the Los Angeles Times, the Toronto Star, and Backpacker magazine. The author of six published books, including the award-winning The World Is Our Classroom, she has lectured on the virtues of sustainability for twenty-five years. Cindy lives in New Ringgold, Pennsylvania.