Helga's Diary: A Young Girl's Account of Life in a Concentration Camp (MP3 CD)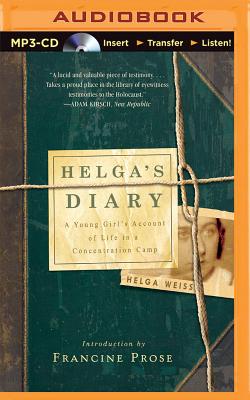 List Price: $9.99
Our Price: $9.49
(Save: $0.50 5%)
Description
---
In 1939 Helga Weiss was a young Jewish schoolgirl in Prague. Along with some 45,000 Jews living in the city, Helga's family endured the first wave of the Nazi invasion: Her father was denied work; she was forbidden from attending regular school. As Helga witnessed the increasing Nazi brutality, she began documenting her experiences in a diary.
In 1941 Helga and her parents were sent to the concentration camp of Terezn. There Helga continued to write with astonishing insight about her daily life: the squalid living quarters, the cruel rationing of food, and the executions--as well as the moments of joy and hope that persisted in even the worst conditions. In 1944 Helga and her family were sent to Auschwitz. Before she left, Helga's uncle, who worked in the Terezn records department, hid her diary and drawings in a brick wall. Miraculously he was able to reclaim them for her after the war. Of the 15,000 children brought to Terezn and later deported to Auschwitz, only 100 survived. Helga was one of them.
Reconstructed from her original notebooks, the diary is presented here in its entirety.