Servant Leadership in Action: How You Can Achieve Great Relationships and Results (Hardcover)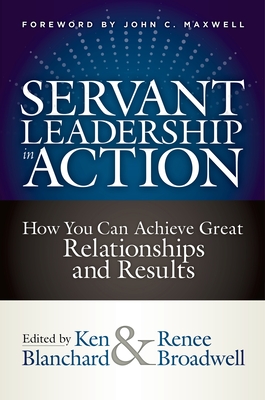 List Price: $28.95
Our Price: $24.61
(Save: $4.34 15%)
Warehouse, In Stock | Usually Ships in 1-5 Days | New
Description
---
"The only way to create great relationships and results is through
servant leadership. It's all about putting other people first."
- from the foreword by John Maxwell

We've all seen the negative impact of self-serving leaders in every sector of our society. Not infrequently, they end up bringing down their entire organization. But there is another way: servant leadership.

Servant leaders lead by serving their people, not by exalting themselves. This collection features forty-four renowned servant leadership experts and practitioners--prominent business executives, bestselling authors, and respected spiritual leaders--who offer advice and tools for implementing this proven, but for some still radical, leadership model.

Edited by legendary business author and lifelong servant leader Ken Blanchard and his longtime editor Renee Broadwell, this is the most comprehensive and wide-ranging guide ever published for what is, in every sense, a better way to lead.
About the Author
---
Ken Blanchard is one of the most influential leadership experts in the world. He is coauthor of the iconic bestseller The New One Minute Manager® and more than sixty other books that have combined sales of more than twenty-one million copies in forty-two languages. In 2005 he was inducted into Amazon's Hall of Fame as one of the top twenty-five bestselling authors of all time. Ken is cofounder with his wife, Margie, of The Ken Blanchard Companies®, a leading international training and consulting firm. In addition to being a renowned speaker and consultant, Ken is also cofounder of Lead Like Jesus, a global ministry dedicated to helping people become servant leaders.

Renee Broadwell has been an editor with The Ken Blanchard Companies for more than ten years, working directly with Ken as lead editor on several book projects including Lead with LUV, Legendary Service, Fit at Last, Collaboration Begins with You, Lead Like Jesus Revisited, and The Simple Truths of Service. She also serves as editor on articles, blogs, other social media, and special projects, partnering with various Blanchard departments including Communications, Marketing, and the executive suite.
Praise For…
---
Complete list of contributors, in alphabetical order:
Cheryl Bachelder, Tony Baron, Colleen Barrett, Art Barter, Richard Blackaby, James H. Blanchard, Ken Blanchard, Margie Blanchard, Robin Blanchard, Brené Brown, John Hope Bryant,Shirley Bullard, Michael C. Bush, Tamika Catchings, Henry Cloud, Stephen M. R. Covey, Holly Culhane, Jim Dittmar, James Ferrell, Mark A. Floyd, Jeffrey W. Foley, Marshall Goldsmith, Jon Gordon, Craig Groeschel, Phyllis Hennecy Hendry, Chris Hodges, Phil Hodges, Laurie Beth Jones, James M. Kouzes, Patrick Lencioni, Rico Maranto, John Maxwell (foreword), Erwin Raphael McManus, Miles McPherson, Mark Miller, Tom Mullins, Neal Nybo, Barry Z. Posner, Dave Ramsey, Garry Ridge, Mark Sanborn, Simon Sinek, Raj Sisodia, Larry C. Spears


"I found Servant Leadership in Action to be an enjoyable collection of essays that kept me interested in the subject of servant leadership regardless of where I was in the book. Blanchard and Broadwell did a nice job setting up the book's structure and dividing the essays into six parts/sections, starting with describing the basic aspects of servant leadership and ending with showing the readers how servant leadership can dramatically impact both results and human satisfaction in organizations. The essays are interesting and varied enough that you can skip around, reading what interests you, and still learn about servant leadership. If you like reading about servant leadership and do not mind a sprinkle of religious stories, then I think you will really enjoy this book." -Steve Nguyen, Ph.D. Leadership + Talent Development Advisor, Workplace Psychology


"Renowned expert Ken Blanchard with Renee Broadwell have assembled the insights of dozens of successful leaders in their new book Servant Leadership In Action. I doubt you will find any book or course on leadership that delivers a more on-target message of the essential element critical to being a truly great leader. Get a copy. Read it. Be it." — Miami Herald 


"Servant Leadership In Action is a comprehensive and inspiring book presented as a servant leadership primer, action plan and how-to guide, then concludes with proof of effectiveness and inspiration to go forward. The wide-ranging yet related topics covered in Servant Leadership In Action is part of what makes the book so valuable. I am sure it will quickly become a must-have resource for leaders, both emerging and established." — Being Fully Present


"Today brings the release of the new definitive book on servant leadership. A curated collection of incredibly insightful and motivational perspectives on servant leadership via essays by 44 servant leaders. Edited by Ken Blanchard and Renee Broadwell, Servant Leadership in Action, includes the personal stories from some of the most well-respected authorities on leadership." — Eric Jacobson on Leadership and Management


"Servant Leadership in Action came to me at just the right time. I found it to be a great, inspiring read. I found it providing me with exposure to the minds of many of my favorite leaders. Perhaps more importantly, though, it exposes readers to different voices they would not have otherwise known. I have no doubt many (if not all) the contributions are immediately applicable to you and your career no matter your industry and role." — 1Glories