Tiger I and Tiger II Tanks: German Army and Waffen-SS the Last Battles in the East, 1945 (Tankcraft) (Paperback)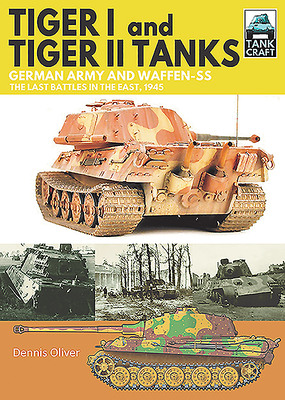 List Price: $24.95
Our Price: $23.70
(Save: $1.25 5%)
Description
---
12 pages of full color illustrations depicting over 20 different vehicles and their markings, including the histories of the Panzer units that operated the Tiger I and Tiger II in the last months of the war on the Eastern Front.

By the first weeks of 1945, the Eastern Front had been pushed back to the Carpathian mountain passes in the south and Warsaw on the Vistula River in the center, while in the north, the German army was fighting in East Prussia. The Wehrmacht's armored and mobile formations were now employed exclusively as fire brigades, rushed from one crisis to the next as the Red Army pushed inexorably westward. Critical to the German defense were the army's heavy Panzer battalions whose Tiger tanks, with their 8.8 cm guns, were almost invincible on the open plains of central Europe.

In his latest book in the TankCraft series, Dennis Oliver uses archive photos and extensively researched color illustrations to examine the Tiger tanks and units of the German Army and Waffen-SS heavy Panzer battalions that struggled to resist the onslaught of Soviet armor during the last days of the conflict which culminated in the battle for Berlin. A key section of his book displays available model kits and aftermarket products, complemented by a gallery of beautifully constructed and painted models in various scales. Technical details as well as modifications introduced during production and in the field are also examined providing everything the modeler needs to recreate an accurate representation of these historic tanks.