Narcissist: How To Beat The Narcissist! Understanding Narcissism & Narcissistic Personality Disorder (Paperback)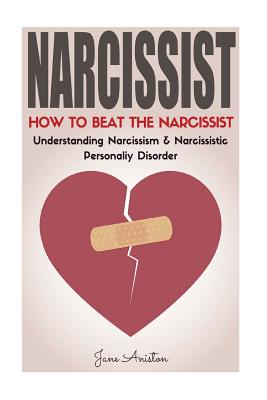 $14.99

Warehouse, In Stock | Usually Ships in 1-5 Days | New
Description
---
Do You Want Feel Empowered & In A Position Of Control When Dealing With Narcissists? - NOW INCLUDES BONUS FREE BOOKS
Is there a narcissist in your life that you're finding difficult to deal with?
Perhaps a controlling partner or an overbearing college at work? Egotistical "friends" who somehow seem to have a way of elevating themselves while bringing you down every time you see them? A family member who constantly oversteps the mark with their arrogance and manipulating ways? A neighbor who seems intent on making your life miserable?
Whatever the case, this book has will help you first understand these individuals, and then, perhaps more importantly, will guide you in exactly how to deal with them.
Narcissists can make our lives a living hell, but by understanding them and then following a few simple guidelines we can take back control and empower ourselves when dealing with these individuals. Whether the narcissist in your life is arrogant, overly-critical, haughty, bullying, bossy, negative, show offs, passive aggressive or simply downright egotistical, this book has the answers you're looking for In this book we'll look at:
The origins and causes of narcissism
The 9 traits of a narcissist - What you should be aware of when meeting someone you suspect is a narcissist Narcissism Vs. Narcissistic Personality Disorder The differences between covert and overt narcissism The narcissist's drug and their greatest fear - Primary and secondary narcissistic supply, narcissistic injury and narcissistic rage How to spot the narcissist - on a date, in your friendship circle, in your family, in the work place & on the internet Dealing with or getting away from the narcissist ...and much more
And as a bonus, I've also included FREE BOOKS and other great surprises
You will see that dealing with narcissists is actually easier than you think when you follow a simple set of rules. Once you understand these principles you'll be well on the way to taking back the power these people are currently exerting over you.
Don't let the narcissist in your life bully and abuse you for a moment longer TAKE ACTION NOW; empower yourself and regain control today by clicking the buy now button above for instant access to the solutions you've been looking for
About the Author
---
Jane Aniston is passionate about healthy, high-quality living and loves sharing what she has learnt with others to help them improve the quality of their lives. Jane has studied the cosmetics and beauty products we use on a regular basis to find out if the ingredients they contain are actually safe are and how these products could be damaging our health. She's committed to giving us another option to the chemical products found on store shelves by writing books which teach how we can make our own healthy, organic alternatives. Jane is also experienced with helping numerous clients overcome various psychological disorders and is passionate about helping others live happier and more fulfilling lives via a natural, self-help approach.