The Great Zapfino (Hardcover)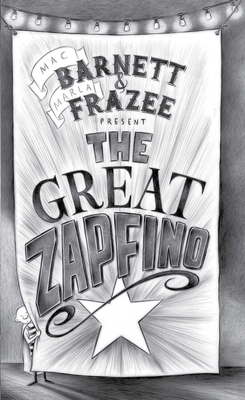 List Price: $17.99
Our Price: $15.29
(Save: $2.70 15%)
Warehouse, In Stock | Usually Ships in 1-5 Days | New
Description
---
From two bestselling and beloved creators comes a sweet and inspiring picture book about a runaway circus performer who learns to face his fears and follow his heart.

When The Great Zapfino climbs to the top of the circus platform, all eyes are on him, waiting for his incredible leap. But Zapfino is afraid of heights! He can't take the pressure and flees, boards a plane, and runs away to start a new life.

In the city, Zapfino starts work as an elevator operator in a tall building but soon learns you can never really outrun your fears. When disaster strikes, can Zapfino find the strength to be great?
About the Author
---
Mac Barnett is the author of the Brixton Brother series and several picture books, including Guess Again! and Chloe and the Lion (both illustrated by Adam Rex), and the New York Times bestseller Extra Yarn. He's on the board of directors of 826LA, a nonprofit writing center, and founded the Echo Park Time Travel Mart, a convenience store for time travelers. Mac lives in Oakland, California.

Marla Frazee is the recipient of a Boston Globe–Horn Book Award for Picture Book and atwo-time Caldecott Honor winner. She has illustrated many acclaimed picture books, including All the World by Liz Garton Scanlon, Stars by Mary Lyn Ray, and Everywhere Babies by Susan Meyers, as well as her own Farmer Books trilogy, A Couple of Boys Have the Best Week Ever, and The Boss Baby, which inspired the DreamWorks Animation film. She is also the illustrator of the New York Times bestselling Clementine chapter books by Sara Pennypacker. The mother of three grown sons, she lives in Pasadena, California. Visit her at MarlaFrazee.com.
Praise For…
---
Join the crowd, hold your breath, and thrill to the ringmaster's ballyhoo as The Great Zapfino ascends the impossibly high ladder and prepares to make the ten-story Leap For Life onto an impossibly tiny trampoline, defying fate "for your entertainment." It's a feat no rational person would attempt—and it seems that Zapfino thinks so too. He's out of the big top in a flash and on an airplane to a palm-tree lined beach, where he snags a job and a dingy top floor room in a Miami-esque mid-century modern apartment building, making a new life for himself as an elevator operator. He likes the tenants and the tenants like him, and life rolls along until the evening he falls asleep waiting for his nightly bread slice to toast and dinner catches fire. What Zapfino wouldn't do "for your entertainment" he now does for self-preservation, delighting onlookers as he leaps off the ledge and tumbles acrobatically through the air, bouncing onto the firefighters' trampoline and sticking a perfect landing with a theatrical flourish. Apart from some well-placed signage and the ringmaster's initial patter, the story proceeds wordlessly, allowing viewers to pore over the variety of elevator riders and their gear and to recognize Zapfino's air of contentment as he settles into a humble but satisfying routine. Frazee's black pencil drawings capture the action in a slightly ambiguous temporal setting, in which elevator operators ply their trade and men can be spotted in ties and fedoras, while airline passengers drag wheeled suitcases and hipsters carry coffee cups and yoga mats. Slight but delightful, this title easily withstands multiple readings, and unprepossessing Zapfino earns the big Z on the front of his uniform.
— The Bulletin of the Center for Children's Books

An unassuming performer gets a stupendous second chance in a lighter-than-air story from Barnett (John's Turn) and Frazee (the Farmer books). Circus performer the Great Zapfino doesn't look as impressive as the name suggests. The paper-white high diver has a head like a bowling ball, ears that stick straight out, a cape, and a striped bathing suit. "Prepare to gasp as Zapfino dives ten terrifying stories through the air, landing on a tiny trampoline!" cries the circus ringleader from far below, as the Great Zapfino peers with dread over the edge of an impossibly tall diving board. A moment later, Zapfino's gone, sprinting from tent to airport to a brand-new, beachside life far away, rendered in vignettes crammed with tiny, surprising scenes as the figure dons an elevator operator's suit, and takes life's ups and downs more slowly. Then fate conjures a situation eerily like the one Zapfino has left, giving the figure another chance to shine. Worked in pencil on matte film, Frazee's lightly smudgy comic line drawings convey relief, repose, terror, suspense, and, at last, Olympian-level physical skill in this droll comedy.
— Publishers Weekly, *STARRED REVIEW*

In a nearly wordless tale, Barnett and Frazee unfurl the story of a former-circus performer who overcomes a fear of heights. The dramatic opening takes readers beneath the big top, where the Great Zapfino (a small, bald boy in a striped outfit) peers over the edge of a stories-high platform. Rather than leaping to the small trampoline, as the ring master's booming voice announces he will, Zapfino books it back down the ladder, hops on a plane, and takes up a new—much safer—life as an elevator operator in a high-rise apartment building. Frazee's pencil illustrations intersperse panel-like sequences with full-page renderings, all filled with soft detail and welltimed drama. Zapfino's life comes full circle when a toaster mishap sets his apartment ablaze, forcing him to leap from his window to the fire-department's trampoline below. At once his circus training kicks in, and the Great Zapfino tumbles through the air, sproings off the trampoline, and sticks the landing. This fun mini-adventure will delight kids as they pore over the illustrations and fill in story details with their imaginations.
— Booklist