The Edge of Everywhen (Paperback)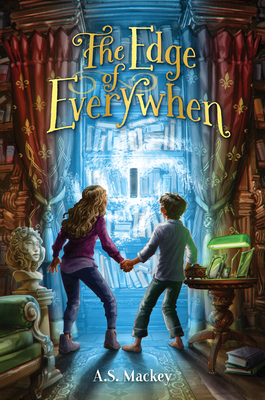 List Price: $14.99
Our Price: $12.74
(Save: $2.25 15%)
Description
---
"Hello, Reader. I am honored to know you." 

Tragedy is sometimes followed by mystery, at least that's what faces 13-year-old Piper and her brother, Phoenix, who has autism. Mourning the loss of their parents, they must move a thousand miles away to live with their insufferable Aunt Beryl. But it is in their aunt's cavernous library that Piper and Phoenix hear a mysterious book calling to them. Its name is Novus Fabula, and its story will change their lives forever. 

"What's that you say? Books cannot speak? On the contrary, dear Reader. Quite the contrary. Books are one of the few things on this earth that truly speak. Let me show you." 

Join Piper and Phoenix in the Verboten Library as they begin an intriguing journey of grief, wonder, and the search for Truth. If you stand with them at the edge of everywhen, you just might discover the story you need to hear as well.


"The Edge of Everywhen is a beautiful story that is part Wrinkle in Time, part My Neighbor Totoro, and all magic. A perfect read for middle grade readers with heart and soul between the pages. I laughed, I cried, I loved this story!"
—Morgan L. Busse, award-winning author of the RAVENWOOD SAGA.
About the Author
---
Allison Mackey's debut book was a Steno pad full of poems, given to her parents as a gift when she was eight. She wrote her first sci-fi novel at age fifteen (it was horrid), but she still went on to solidify her love for creative writing with a degree in English literature from the University of Georgia. A member of the Shoals Writers Guild and the mother of three adult children, Allison lives in Florence, Alabama, where she and her husband are church planters and worship leaders.