Queen of the Sea (Hardcover)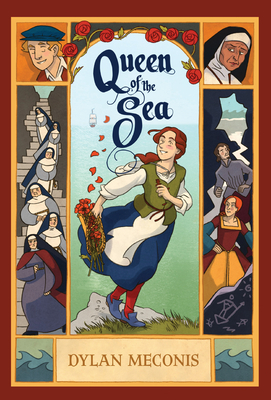 List Price: $24.99
Our Price: $21.24
(Save: $3.75 15%)
Warehouse, In Stock | Usually Ships in 1-5 Days | New
Description
---
Cult graphic novelist Dylan Meconis offers a rich reimagining of history in this beautifully detailed hybrid novel loosely based on the exile of Queen Elizabeth I by her sister, Queen Mary.

When her sister seizes the throne, Queen Eleanor of Albion is banished to a tiny island off the coast of her kingdom, where the nuns of the convent spend their days peacefully praying, sewing, and gardening. But the island is also home to Margaret, a mysterious young orphan girl whose life is upturned when the cold, regal stranger arrives. As Margaret grows closer to Eleanor, she grapples with the revelation of the island's sinister true purpose as well as the truth of her own past. When Eleanor's life is threatened, Margaret is faced with a perilous choice between helping Eleanor and protecting herself. In a hybrid novel of fictionalized history, Dylan Meconis paints Margaret's world in soft greens, grays, and reds, transporting readers to a quiet, windswept island at the heart of a treasonous royal plot.
About the Author
---
Dylan Meconis is a cartoonist, writer, and illustrator who created the graphic novels Family Man, Bite Me!, and Outfoxed, which was nominated for a Will Eisner Comic Industry Award. She lives with her wife in Portland, Oregon.
Praise For…
---
[A] captivating coming-of-age story… The best graphic novels suggest rather than decree. They allow readers to search for truth in what is shown and said, but to find it in the silence between the words, the space between the images. The beguiling 'Queen of the Sea' stands solidly among them.
—The New York Times Book Review

The art, reminiscent of Raina Telgemeier's style, creates levity during perilous situations. The book is dense with dialogue, often feeling more like a work of prose than a graphic novel. As a result, this complex work will be more accessible to those familiar with graphic novels...Certain to charm sophisticated graphic novel devotees.
—School Library Journal (starred review)

Meconis offers an atmospheric alternate history inspired by the childhood and succession of Queen Elizabeth I in this quietly ambitious graphic novel...Art in soft, earthy colors brings this singular story to life in styles ranging from simple line drawings to elaborately styled text illuminations. The island world is richly developed, both in its physical particulars and its close-knit community (fascinating digressions into topics such as convent time, hand gestures used at table, and chess and embroidery flesh out daily life), and Margaret proves herself an endearing heroine with a strong voice full of humor and wonder. Her perspective transforms a storm-wracked rock into a vibrant world of hidden treasures.
—Publishers Weekly (starred review)

Meconis' humor and storytelling gifts here wed seamlessly with her evocative pen-and-ink and gouache illustrations, which are rendered in warm earth and sea tones and brim with movement, expressively capturing even Margaret's interior monologues. With its compelling, complex characters and intrigue-laden plot, this will have readers hoping it's only the first of many adventures for Meconis' savvy heroine.
—Kirkus Reviews (starred review)

Meconis fills her panels with naturalistic figures colored with expressive watercolor washes, which add rich emotional depth to the story. When Margaret shares folktales or stories, Meconis uses brasher colors and inky brushstrokes in a style resembling marginalia in illuminated manuscripts, and occasionally embroidery embellishes the background of pages. It's a stunning visual package, and the slow-burning story of Margaret's gradually opening world is made all the more captivating by the well-researched historical setting, immersive world building, and engrossing characters.
—Booklist (starred review)

Meconis revels in the offstage court machinations, but within the lone setting of the convent island she also creates respectful portraits of strong women who know how to weather a political storm, and of faith and religious ritual that bring the sisters genuine contentment...This title will offer crossover appeal for readers of historical fiction and political fantasy.
—Bulletin of the Center for Children's Books

[A]n engrossing graphic novel by Dylan Meconis set in an alternative Tudor realm in which England is Albion… In unspooling an exciting story of political intrigue drawn from the real life of Elizabeth I, the author introduces readers ages 10 to 16 to the disciplines of cloistered life, treating with interest and respect such practices as the veneration of holy relics and the codified gesturing of silent meals.
—The Wall Street Journal

Throughout, the mixed-media illustrations in an earthy palette are a dynamic mix of panel sizes and shapes that—along with the speech-bubble dialogue—reflect the emotions, intrigue, and actions of the complex characters, to great cinematic effect.
—The Horn Book

[An] engaging graphic novel inspired by the 16th-century arrest of the future Queen Elizabeth I of England by her paranoid sister, Mary… With charming and often funny drawings and detail-laden text, little Margaret gives readers an education in medieval convent life, while her formerly staid world turns upside down.
—Arkansas Democrat Gazette

"Weaving faith, love, statecraft, and self-discovery into a tale of palace intrigue relocated to the halls of a convent on a remote island at sea, Dylan Meconis uses the trappings of the history we know to create a high-stakes adventure in an alternate past that feels so detailed and so familiar, you'll find yourself wondering why you never read about it in school. This beautiful book swept me away from the first page."
—Kate Milford, author of the Greenglass House series

"Dylan Meconis is at the absolute top of her game. A gorgeously rendered, lovingly realized alternate history, full of personal revelations in the midst of political intrigue. A tale of growing up, and of understanding that the world is larger and stranger than it once seemed. (Plus it has a Terrible Recipe for Terrible Gruel.)"
—Ben Hatke, author-illustrator of the Zita the Spacegirl series

"This is the book I was always trying to get my hands on in high school that never seemed to materialize. An adventure to lose yourself in, with an attention to historical detail to please the nerdiest among us. I fell easily and completely into this world and its characters, knowing I was safe in Dylan Meconis's hands, and I'm really excited for more people to find out what I've known for a long time—that she is one of a kind."
—Kate Beaton, author-illustrator of Hark! A Vagrant

I have to believe that the combination of excellent writing, stunning art, and a storyline that will engage and entrance readers, will yield some kind of appreciation somewhere...this is a book for everyone. Impossible to forget, undeniable in its delights.
—A Fuse #8 Production (blog)

Alternative history at its finest.
—A Fuse #8 Production (blog)
Coverage from NPR