Food Geographies: Social, Political, and Ecological Connections (Exploring Geography) (Hardcover)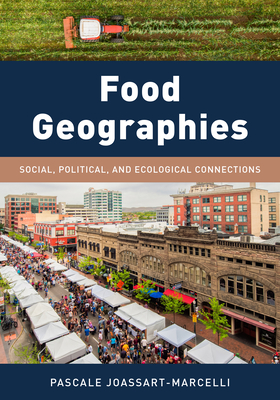 This item is backordered and not currently available. Please contact us for an estimated availability date.
Description
---
What is the significance of food in our everyday lives? Food Geographies addresses this broad question by examining the social, political, and ecological connections that food weaves between people and places across the world and revealing the centrality of food in the human experience. This interdisciplinary and systemic perspective provides readers with key concepts, analytical tools, and critical skills to better understand and address the many issues facing the contemporary food system, including food insecurity, environmental degradation, climate change, labor exploitation, social inequality, power imbalance in decision making, and threats to health and well-being. It takes readers to places including modern plantations in Peru, collective farms in Tanzania, food halls in France, home kitchens in Japan, community gardens in Brazil, pubs in England, and animal feeding operations in America. By raising important questions about the current system, readers will explore ways to enact meaningful change to build better future food geographies by producing, consuming, and engaging with food differently.
About the Author
---
Pascale Joassart-Marcelli is professor of geography and director of the Interdisciplinary Food Studies Program at San Diego State University. Her research focuses on the relationship between food, place, and ethnicity, including the role of food in creating just and sustainable cities. She has published over fifty peer-reviewed articles and book chapters and is the author of The $16 Taco: Contested Geographies of Food, Ethnicity, and Gentrification (2021) and the coeditor of Food and Place: A Critical Exploration (2018).