Awakening to Educational Supervision: A Mindfulness-Based Approach to Coaching and Supporting Teachers (Paperback)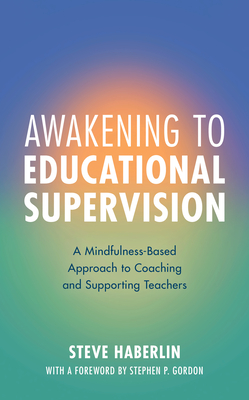 This item is backordered and not currently available. Please contact us for an estimated availability date.
Description
---
This book introduces mindfulness as an approach for enhancing the supervision of teachers and teacher candidates. Drawing on empirical research and the welcoming of mindfulness in public school classrooms, the author makes the case for embracing mindfulness methods as a way to become more conscious of supervisory practices and "less reactive" and to enhance regularly enacted tasks, such as classroom observations, conference, and foster relationships and developing collegiality. In contrast to traditional models of supervision, the author reframes supervision as a present moment experience in which unlimited possibilities exist. Awakening to Educational Supervision: A Mindfulness-Based Approach to Coaching and Supporting Teachers provides specific techniques and exercises, such as mindfulness breathing and meditation, mindful walking, mindful note-taking, and deep listening, that can be embedded in supervision routines and practices. Additional notions furthering the mindful supervision approach are also addressed, including the role of intuition, mindfulness in relation to ethical and moral action within supervision, and mindfulness as a way to further building community among school stakeholders.
About the Author
---
Steve Haberlin, PhD, is assistant professor of education at Wesleyan College. As a veteran K12 educator, he has won awards for his work with gifted children. As teacher of elementary gifted at Rampello K-8 in downtown Tampa, Florida, Steve worked with first through fifth grade students identified as gifted/talented. During his time at the school, Steve worked to improve the gifted education curriculum and programming as well as expanding enrichment opportunities to all students on campus. His accomplishments have included spearheading an enrichment committee, implementing lunchtime programs where students view popular TED Talks, and working with the University of Tampa to launch a enrichment program that served some 250 students. During the 2013-14 school year, Steve was named the school's Ida Baker Teacher of the Year by his peers as well as received the Creativity Leadership award by the Gifted Association of Hillsborough County. He also served on the district's gifted advisory committee, helped trains gifted teachers during annual trainings, and recently served as a coach/trainer to teachers across Florida, including in Hillsborough and Pinellas counties, who implemented an advanced math program for second grade students. Steve has also been a presenter at the Florida Association of the Gifted's annual conference. Steve has published several peer-review articles on supervision (e.g., "Action in Teacher Education," Journal of Educational Supervision) as well won an award from the Council of Professors of Instructional Supervision (COPIS) for his research on connecting supervision with Zen and mindfulness. He has also published research on implementing mindfulness with elementary gifted students. Steve is a regular blogger for Education World, where he writes about gifted education. He is a long-time (20-plus years) practitioner of meditation.