Scotus and Covid: How the Media Reacted to the Livestreaming of Supreme Court Oral Arguments (Paperback)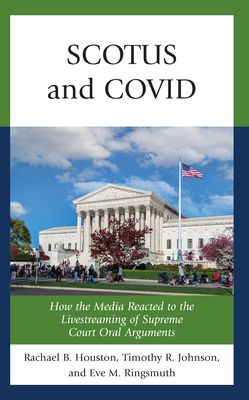 $46.80
This item is backordered and not currently available. Please contact us for an estimated availability date.
Description
---
This book compares the volume and nature of online print and broadcast television coverage from major media outlets from all U.S. Supreme Court oral argument sessions during the October 2019, 2020, and 2021 Terms. The authors demonstrate that the move to livestreaming the Court's oral argument sessions increased the frequency and depth of online print news media's coverage in the short term but not in the long term. For both online print and broadcast outlets, their findings suggest that the benefits of increased transparency offered by livestreaming oral argument audio did not come with significant disadvantages for the Court in terms of long-term changes in its news media coverage. The authors analysis provides timely evidence that speaks to the current, and ongoing, debate about public access to the Supreme Court. It also speaks to the likely consequences of permanently continuing the practice of livestreaming oral argument audio and sheds light on the ramifications of other potential expansions in transparency at the Supreme Court, such as livestreaming opinion announcement audio or providing live video coverage of the Court's proceedings. This work speaks to the impact of increased access to oral arguments and the inner workings of government institutions more broadly. Indeed, the U.S. Supreme Court was not the only institution to grapple with the constraints of the COVID-19 pandemic and opportunities for unprecedented, and instantaneous, access to anyone, anywhere. Better understanding the implications of the Court's decision to livestream audio from its proceedings provides leverage on the consequences of greater government transparency for news media coverage and, by extension, individuals' exposure to, and interaction with, government more generally.
About the Author
---
Rachael Houston is assistant professor of political science at Texas Christian University. Her work has been published in the Justice System the Journal and Journal of Supreme Court History, and in a variety of encyclopedias and blogs. Timothy R. Johnson is Horace T. Morse Distinguished Professor of Political Science and Law at the University of Minnesota. He has published several books about the U.S. Supreme Court, including Oral Arguments and Coalition Formation on the U.S. Supreme Court, A Good Quarrel, and Oral Arguments and Decision Making on the U.S. Supreme Court. Eve M. Ringsmuth is associate professor of political science at Oklahoma State University where she teaches judicial politics, American political institutions, and civic education. Ringsmuth has co-authored the book, It's Not Personal: Politics and Policy in Lower Court Confirmation Hearings, and her work has been published in journals such as American Politics Research, International Studies Quarterly, Political Behavior, and Political Research Quarterly.